France coach hails Karim Benzema as they prepare to face Uruguay and Brazil
France coach Didier Deschamps has hailed Karim Benzema as they prepare for friendlies against Uruguay and Brazil.
Last Updated: 04/06/13 7:42pm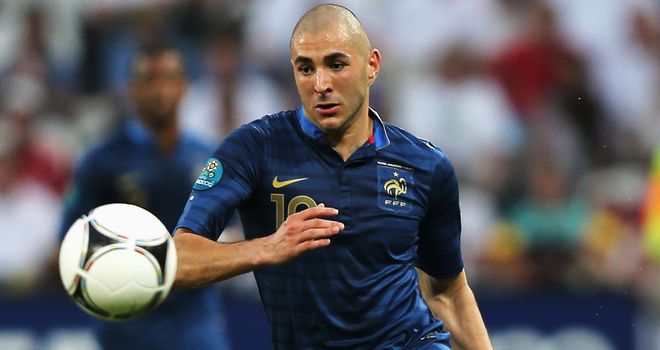 France coach Didier Deschamps believes Karim Benzema exemplifies the "desire" in his squad as they prepare for friendlies against Uruguay and Brazil.
The Real Madrid striker has reported for duty despite a knee injury and could play a part in one or both games.
Deschamps told reporters at a pre-match press conference in Montevideo: "He could have said he was not ready but he was determined to come here. That shows his passion for the France jersey.
"He is progressing well. He knows Sunday is the more important match for him, but it is also possible that he could be available tomorrow.
"They all have desire. You could see that yesterday (in training), we had to drag them off the pitch or they would have stayed shooting at goal."
Captain for the day Blaise Matuidi also summed up that feeling when he billed international action "a level above" his club Paris Saint-Germain's title-winning and Champions League adventures.
The midfielder will lead the side while winning just his 13th cap but he said: "I have been back in the national team for a while.
"It's not like I have 50 caps but I try to take the experience that I have been able to gain by playing in high-level matches with my club.
"The national team, though, remains a whole level above."
Deschamps is expecting a tough workout against Uruguay, despite the Celeste's struggles in World Cup qualifying. Oscar Tabarez's side lie sixth in the CONMEBOL standings, outside the qualifying positions and two points behind Chile and Venezuela.
"For me, the two games are equally important," said Deschamps. "Yes, there is the prestige of playing against Brazil, but we know what Uruguay represent as well.
"Even if their recent results have not been so good, they were one of the top five nations in the FIFA rankings when we played them in August."
That match, Deschamps' first in charge of Les Bleus, marked the fourth successive goalless draw between the sides.
The last match prior to that saw Michel Platini set up the opening goal in a 2-0 win for France in 1985, while Uruguay's last win over Les Bleus was in the 1966 World Cup.
Tabarez told L'Equipe: "It is a long time since we have beaten them, they have played at a very high level recently.
"We should not be obsessed about the result, more about the way we go about winning."
Tabarez also played down the struggles afflicting his side's bid to return to the World Cup, having reached the semi-finals in 2010 and followed it up by winning the 2011 Copa America.
He continued: "The question to ask is: Is what happened in 2010 and 2011 the norm or the exception?
"Do we have to forget all the years we struggled? What is our reality?
"I do not want to fixate on the past and the last two years. We cannot be prisoners of that."