Sami Hyypia wants Bayer Leverkusen to maintain their recent fine form
Sami Hyypia wants Bayer Leverkusen to carry on their fine form, but not get carried away for the clash at Werder Bremen.
Last Updated: 27/11/12 3:01pm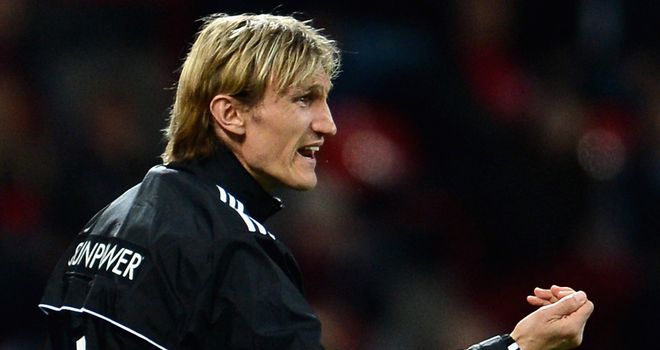 Bayer Leverkusen coach Sami Hyypia wants his side to carry on their excellent form, but not get carried away as they travel to Werder Bremen on Wednesday night.
Leverkusen have picked up 12 points from their last five games, which includes victory over Bayern Munich.
That is just one point less than the league's form side Borussia Dortmund over the same period, but Hyypia wants even more from his side.
"We can only talk about success or not next May," he said. "There are another 21 games to be played and we have not achieved anything yet.
"It is always dangerous when you start to show satisfaction with what you have got while the season is still going on."
However, Leverkusen can certainly be satisfied with their current league position which sees them just a point behind second-placed Dortmund, although their performance against Hoffenheim on Sunday was not so satisfying, apart from the result - a 2-1 victory.
"We have got to play better than we did against Hoffenheim," added Hyypia at the pre-match press conference.
"But I am convinced that the team will do that. It's going to be tough because Bremen have a very strong team."
Thomas Schaaf's side have proven that recently with their own rise up the table taking them up to seventh.
And their form at the Weser Stadion is impressive too with three straight victories on home soil, although they have not managed to beat Leverkusen in their last eight attempts.
Leverkusen welcome Renato Augusto back after he was given a rest at the weekend while Bremen came away unharmed from their draw with Wolfsburg on Saturday.