Three teams to test at Magny-Cours
Ferrari, Mercedes and Force India will return to Magny-Cours for the first time in four years next month to conduct their respective young driver tests.
Last Updated: 24/08/12 5:49pm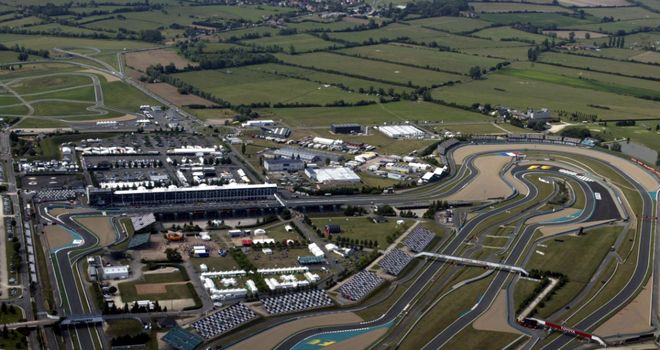 Ferrari, Mercedes and Force India will return to Magny-Cours for the first time in four years next month to conduct their annual three days of young driver testing.
Formula 1's teams have failed to agree on a sole venue for this year's young driver sessions following concerns over the logistics of holding the test as usual at Abu Dhabi's Yas Marina circuit in the days following the circuit's November Grand Prix due to the fact they have to fly their cars and equipment out to Austin in Texas for the following week's US GP.
Last month Williams, Marussia and HRT opted to complete two days of running with their respective inexperienced drivers at Silverstone and now the three further teams have finalised plans to run at Magny-Cours, the home of the French GP from 1991 to 2008, on September 11-13, the week after the Italian GP at Monza.
The Chairman of the Magny-Cours board Serge Saulnier said in a statement: "I am thrilled to be able to confirm that Formula 1 cars will return to Circuit de Nevers Magny-Cours next month.
"We have worked tirelessly to upgrade the venue, which has just been homologated to F1 standards for another four years, and I am certain that the teams and drivers will appreciate the work that has been put in."
Magny-Cours became a permanent feature on the calendar after replacing Paul Ricard as the home of the French GP but dropped off the schedule for 2009 after the country's motorsport authority pulled its backing for the event for financial reasons.
The facility in Nevers, which was routinely criticised by the F1 fraternity due to its relatively remote nature, has since been upgraded and the venue is now linked to Paris via a new motorway.
Saulnier hopes the return of F1 cars to the circuit will boost its attempts to revive the French GP, with expectations of a return at Paul Ricard appearing to have stalled.
"What's more, this is an extremely positive step forward as we seek to return Formula 1 racing to our circuit. With Magny-Cours a candidate to host future French Grands Prix, it will be fantastic to showcase the track and our staff's know-how to the high-calibre F1 personnel who will be on-site," he added.
McLaren, Red Bull and Toro Rosso are expected to stick to recent tradition and conduct their permitted young driver running in Abu Dhabi in November, leaving three further teams - Sauber, Lotus and Caterham - to confirm their plans.