Kimi back to earth with a bump
Kimi Raikkonen lost running time after hitting a kerb on day two at Jerez but was content with his progress all the same.
By Mike Wise at Jerez
Last Updated: 08/02/12 6:29pm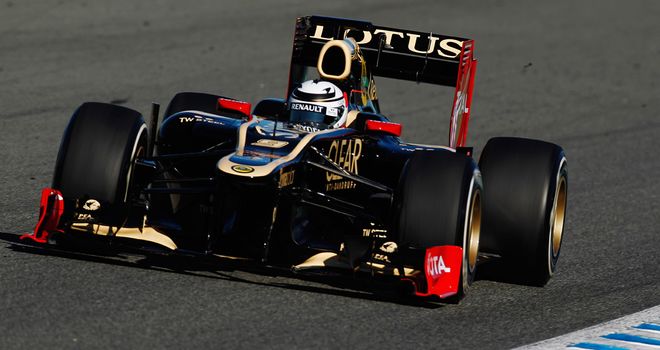 Kimi Raikkonen fell back to earth with a literal bump on day two of Formula 1's first pre-season test but the former World Champion remains content with progress during the early stages of his comeback at Lotus.
The Finn went straight to the top of the timesheets on Tuesday but finished fifth fastest 24 hours later after missing most of the morning's running after hitting a kerb and damaging the floor of his E20.
According to Raikkonen, whose car also had its steering wrack changed during the morning hiatus: "I ran wide in the braking at turn six and running back from the gravel the edge of the kerb was very high, so it hit the front of the floor and we damaged it."
Raikkonen might be returning to F1 this season after two years spent rallying but even he found the going tricky in the chilly conditions.
Difficult
Although the sun shone brightly once more, temperatures struggled to reach double figures with winds also stronger than they had been on day one.
Raikkonen, who sampled Pirelli's soft, medium and hard compound rubber during the 117 laps he eventually completed, explained: "It was a lot to do today with the tyres going off. Some compounds worked better than others. When they're new they're all good tyres but once they get used it was quite difficult."
He added: "If they give the heat and if the conditions are good for the compound it seems to be fine. But some of them don't like it when it's cold and the tyre just doesn't work.
"But when they work normally, it's not too bad. At least here - it might be a different story in a month's time."
Raikkonen will now hand over to new team-mate Romain Grosjean for the remainder of the test before returning to the cockpit at Barcelona in two weeks' time.
"I think the main thing is to get a lot of mileage," he added. "The car feels okay, although the conditions were a bit more tricky than yesterday. But I'm happy with what I did in two days."