Gascoyne takes on wider role
Mike Gascoyne declares himself a "proud man" after his appointment as the Caterham Group's Chief Technical Officer.
Last Updated: 17/02/12 12:04pm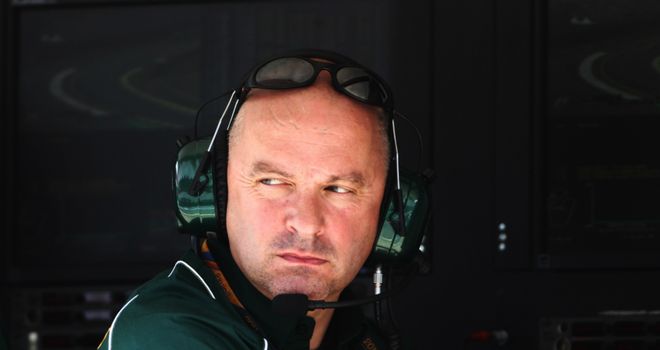 Mike Gascoyne, who has served as Caterham's F1 technical chief since the Norfolk-based squad was launched ahead of the 2010 season, has been appointed to the role of Chief Technical Officer for the whole Caterham Group.
The Tony Fernandes-owned squad announced on Thursday that Gascoyne's new responsibilities will include "proposing, supporting and coordinating key technical initiatives" throughout all areas of the Caterham Group, which include the F1 and GP2 teams as well as the sports car division and technology and innovation arm.
The Briton's current number two in the F1 team, Technical Director Mark Smith, will take over day-to-day running of the squad's technical department and travel to more races in the coming season.
Gascoyne will continue to attend grands prix himself and says he is excited to have been given the opportunity to branch out into other areas of the Caterham family, the sports car firm which Fernandes and his business partners bought last year.
"This is a very proud moment for me. [Caterham co-owners] Tony, Kamarudin, Nasa and Riad have established Caterham Group as a serious force for future development in a number of very exciting sectors," he said.
"My new role will now give me the chance to help drive value across the whole group through the creation and delivery of new projects in all the sectors we are already working in, and opening up new opportunities for each of the Group's companies to embrace."
He added that Smith, who he previously worked with at both Renault and Force India, was the perfect man to take on the additional F1-specific responsibilities.
"Mark Smith is exactly the right person to step up to the broader role he will now be taking on in the F1 team, and I am looking forward to working even more closely with Mark Edwards at Caterham Technology & Innovation, Phil Hall at Caterham Composites and Ansar Ali at Caterham Cars. This is a big challenge but one I am extremely excited about and I want to thank our shareholders for this opportunity," Gascoyne added.
Caterham chairman Fernandes expressed confidence that Gascoyne would help drive the company forward in his new role, saying: "We are all delighted that Mike has taken up the challenge we have presented him, to lead technical direction across the whole Caterham Group.
"His experience, knowledge, enthusiasm and creativity give him the perfect skill set to help us achieve the ambitious goals we have set for all the group companies, and I know Mike is excited about what lies ahead."