Ricciardo not fazed by pressure
Daniel Ricciardo has insisted that proving himself to Red Bull will not cast a shadow over his debut season racing for Toro Rosso.
Last Updated: 19/02/12 11:46am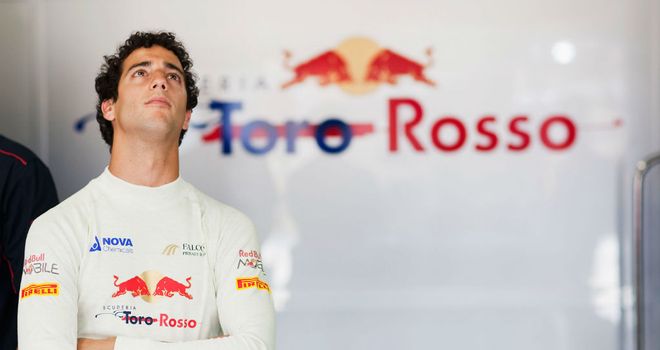 Daniel Ricciardo has insisted that proving himself to Red Bull will not cast a shadow over his debut season racing for Toro Rosso.
The 22-year-old Australian graduates to a race seat at the Red Bull-backed team along with Jean-Eric Vergne after Toro Rosso's previous drivers, Sebastien Buemi and Jaime Alguersuari, were released late last year.
Speaking at the time, Helmut Marko, who oversees Red Bull's Driver Development Programme, claimed that Buemi or Alguersuari were sacked because neither has the ability to win World Championships.
The double axeing of the pair, aged 23 and 21 respectively, underlined the ruthless competition that Red Bull hopes will deliver them a successor to double World Champion Sebastian Vettel.
Vettel joined Red Bull Racing from Toro Rosso after winning the 2008 Italian Grand Prix for the latter team and Ricciardo knows that, with countryman Mark Webber yet to extend his contract beyond the current season, one of F1's most prized seats is potentially up for grabs.
Yet faced with the prospect of either graduating alongside Vettel or ending up on the sidelines like Buemi and Alguersuari, the youngster insisted he would not allow the pressure to faze him.
"I feel pressure to deliver yes, but it's not only pressure from Red Bull, it's pressure from myself. And not only this year, but since I joined with Red Bull four or five years ago," Ricciardo told Autosport.
"But even before that I put pressure on myself to try and get spotted by Red Bull. So I guess for my whole career. Basically every driver, to get to this level, has put pressure on themselves.
"Maybe there is some added pressure from Red Bull but if you want to be World Champion then you know you have got to perform, and they only reason they kick you out is if you are not performing and then you don't probably deserve to be World Champion.
"That's just the business we're in."
Priority
Having started 11 grands prix for HRT last year as well as performing reserve driver duties for Toro Rosso and racing in the Formula Renault 3.5 series, Ricciardo also said he would be better able to focus on F1 this year.
"Since Christmas I have been able to prioritise this and only this," he added. "And particularly last year was pretty intense when I was juggling Toro Rosso, World Series and then HRT. And there was a lot of travelling involved so...
"This year I will definitely be better prepared and devote a bit more time to the job, to training and to focus with less interruptions."