Fry blames Ferrari methods
Technical director Pat Fry has hinted that Ferrari's problems run far deeper than those they are currently experiencing with their car.
By Mike Wise in Shanghai
Last Updated: 13/04/12 3:15pm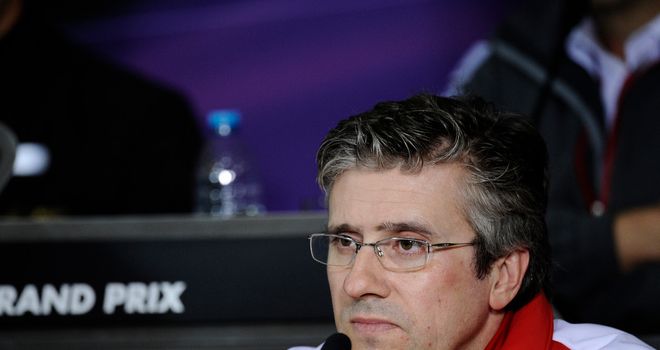 Ferrari technical director Pat Fry has hinted that their problems run far deeper than those they are currently experiencing with the F2012 chassis.
Speaking at the Chinese Grand Prix on Friday, Fry suggested that the poor performance of the Scuderia's latest car came as a result of more fundamental issues back at their Maranello base.
He said that "methodologies" the Scuderia use during the design and development of their cars needed to be looked at.
The F2012 lacks downforce compared to its main rivals, although Fernando Alonso currently holds the lead in the Drivers' Championship thanks to his victory in the wet Malaysian Grand Prix two weeks ago.
Ferrari have already altered the design and positioning of the car's exhausts as they, like all F1's frontrunners, seek to minimise the loss in grip caused by the clampdown on blown diffusers.
More upgrades are planned ahead of next month's Spanish Grand Prix but the changes seem to be the tip of the iceberg as far as Fry is concerned.
Work on all fronts
"The exhaust is one of the more obvious changes that we've made, but that's quite a small part of the problem that we've got," said Fry, who joined the team from McLaren two years ago.
"I don't really want to go into where all the problems are - it's not just a case of us trying to build a quicker car, we need to fundamentally be changing the methodologies that we use to select, design and manufacture so that we are competitive long term.
"There's work on all fronts, not just work into what we're taking to Barcelona, there's also a huge amount of work in just trying to change the fundamentals of what we do so we can actually take a step forward and be competing with everyone else."
Fry was promoted last year as Ferrari sought to shake up their technical department in the wake of a similarly disappointing start to the 2011 season.
On that occasion, the aerodynamic problems they suffered were blamed on a disconnect between the car's performance in the wind tunnel and on track.
However, Fry suggested that little had changed at Ferrari in the intervening period.
"The biggest performance differentiator - as people mentioned earlier - is aerodynamics. We've got some issues there that we're trying to resolve," he added.
Accuracy
"The areas you need to be working on is everything from the way you run the wind tunnel, the accuracy of your wind tunnel, the simulation that you use to decide what components to take forward, so we're not leaving any stone unturned.
"We're actually trying to review and revise our methodologies through the whole process and that carries on into the design office for trying to get weight out of various parts, make other bits more durable, so there's work going on absolutely everywhere within the company, on the basic fundamental methodology as well as just trying to upgrade the car."
With Ferrari currently struggling to crack the top 10 during qualifying, Fry also said that he expected little change in their performance this weekend.
"I think our performance here is likely to mirror the first two races. We've got a few small upgrades on the car that should improve it a fair amount but then I think this track suits us less favourably than the last one really, so I expect the gaps are going to be similar. We have a lot of work to do to catch the others, particularly in qualifying," he added.