Perez eyeing 2012 victory
Sergio Perez believes Sauber can harbour ambitions of winning a race this season after he made the podium for the second time this year in Montreal.
Last Updated: 11/06/12 4:55pm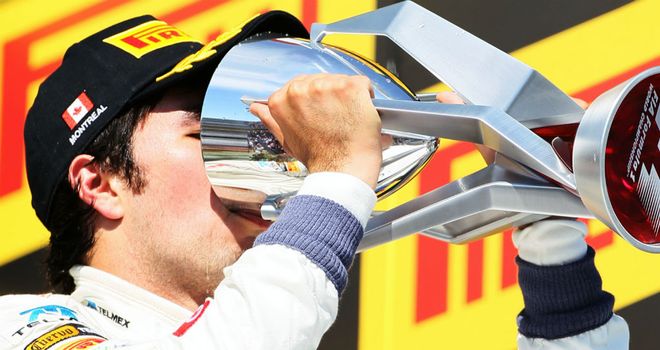 Sergio Perez believes Sauber can harbour ambitions of winning a race this season after he finished on the podium for the second time in seven races in Canada.
Many pundits felt the Hinwil-based team's best chance of winning only the second Grand Prix in their long history came and went in Malaysia back in March when Perez, having charged up to the back of Ferrari's Fernando Alonso in drying conditions, briefly ran off the track towards the end of the race and had to settle for second place.
Perez's subsequent results over the following four races seemed to back that assumption up as he failed to finish higher than 11th amid a series of setbacks yet in Montreal on Sunday, despite having started a lowly 15th on the grid, the 22-year-old catapulted himself up the order after running a mammoth 43-lap opening stint and then took advantage of the fading Alonso and Sebastian Vettel to finish third.
Having now doubled his career podium count, Perez feels Sauber have the car to target the top three on a more regular basis - with a breakthrough win the ultimate ambition before the season's out.
"The thing is we long to fight for a podium every race," he said. "Today was a very crazy race, as we have had many of this year. But I think we have the potential to do it.
"This has to be the target, to get the first win this season for our team."
Perez added that reaching the podium again was "special", even if he admitted it didn't quite compare to his maiden one at Sepang.
"Well, I think every podium is special, especially when it's only your second podium in Formula 1, it's a very special feeling," he added.
"In the position that I am with my team, we are still fighting to get to the top, to be a top driver one day. It's great, every opportunity I have to show my potential, because you don't know how many opportunities you will have.
"I have been very unlucky in the last races so I think it feels great but I think the first podium feels a bit better."