Sauber stay coy over Perez future
Sauber's management are remaining tight-lipped over the future of Sergio Perez after the Mexican's latest star performance in the Italian GP.
Last Updated: 10/09/12 1:34pm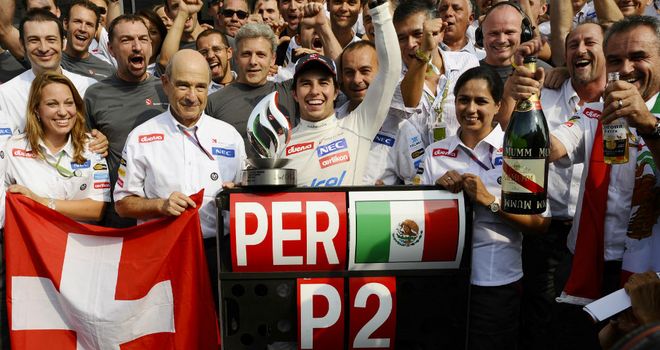 Sauber's management remain tight-lipped over the future of Sergio Perez after the Mexican's latest star performance in the Italian GP renewed speculation that he could be Ferrari-bound for 2013.
The 22-year-old had already been linked with a switch to Sauber's engine suppliers as a replacement for Felipe Massa with varying levels of intensity throughout the season and so it was inevitable that following his surge from 12th on the grid to second place at Monza the rumour will would lurch into full swing again.
Team owner Peter Sauber gave little away to Sky Sports F1 when asked about the outfit's chances of hanging onto their highly-prised asset into next season after seeing Perez deliver his and the team's second runner-up finish of the season - but, in a possible subtle hint to any would-be suitors, claimed that the Mexican had just been driving the fastest car at the grand prix anyway.
Asked by Ted Kravitz if he feared Perez's latest podium would make it more difficult to hang on to the Mexican's services for 2013, the veteran Swiss replied: "We will see. At the moment he sit[s] in the fastest car."
Then asked by Ted if he meant they had a faster car than the Ferrari this weekend, Sauber said: "No, today [it] was the fastest car.
"So big steps to the front. He started on position 12 and we finished seven [actually four] seconds I think behind [Lewis] Hamilton."
Team CEO Monisha Kaltenborn answered questions about Perez's future with a similarly straight bat after the race to reporters, but did admit she remained "relaxed" about the situation.
"I've always told you we announce for one season and we will in due course announce for the next season," she reiterated.
"But I am still relaxed as I was months ago."
Despite all the speculation that has surrounded his future since his breakthrough result in Malaysia in March, Perez himself has continued to pledge his loyalty to Sauber and in the post-race press conference wouldn't be drawn into discussing any Ferrari future.
Asked if his late overtake of Fernando Alonso for second place may have actually harmed his chances of joining the Scuderia in 2013 given it was Ferrari's home race, he replied: "Ask him [Alonso]. I don't know. I'm sure... I'm not at all... I'm fighting for my team and will always fight for the team that I'm in.
"I will always give my maximum I can. And I will fight any driver, no matter if it's Fernando or Lewis, I will fight for my team to get the result - and I think every driver will do the same."
In addition to uncertainty over Perez's future at Sauber, team-mate Kamui Kobayashi is thought to be far from certain to hold onto his drive for 2013 with several other drivers being linked to the revitalised Hinwil operation.