McLaren 'weren't complacent in talks'
Martin Whitmarsh has insisted that McLaren didn't underestimate the threat of losing Lewis Hamilton during their ultimately unsuccessful contract talks.
By James Galloway.
Last Updated: 03/10/12 3:19pm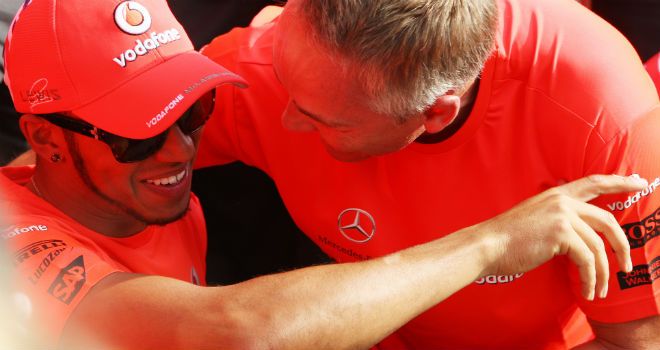 Martin Whitmarsh has insisted that McLaren didn't underestimate the threat of losing Lewis Hamilton in their ultimately unsuccessful contract negotiations with the British driver.
After months of frenzied speculation surrounding the 2008 World Champion's future, the news arrived last Friday morning that Hamilton had decided to end his 14-year relationship with McLaren and defect to Mercedes on a three-year deal, with Sauber driver Sergio Perez to arrive in the Briton's place in time for 2013.
In the initial phase of their negotiations with Hamilton's management company McLaren were thought to have offered the driver a cut in his current basic salary, before apparently increasing their offer once interest of a serious rival bid from Mercedes leaked out.
Hamilton's subsequent decision to switch teams served to put McLaren's handling of the negotiations under the spotlight in the British press in the days following the announcement. However, speaking on Wednesday, Whitmarsh insisted McLaren weren't complacent - as proved by their subsequent swift move for Perez - and had made an offer to Hamilton which would have made him the highest-paid driver in F1.
"I think Lewis is a top-flight driver," McLaren's Team Principal told journalists in the latest Vodafone McLaren Mercedes phone-in.
"We didn't underestimate his attractiveness to others in Formula 1. So I don't think we underestimated it. We knew Lewis would be in demand, that's why we made him an offer.
"The offer that we made was higher I believe than any driver in Formula 1 is currently receiving or will receive next year.
"I think it was a good offer but there clearly we had to look at the alternatives because we recognised that there was a serious threat."
Although some have speculated that McLaren may have in the end not been too disappointed to move on from the Hamilton era after a series of fractious incidents in recent seasons, Whitmarsh reiterated that they had wanted the driver to stay and did everything in their power to persuade the 27-year-old to sign a new deal.
"We put a lot of effort into trying to keep Lewis," he said.
"He's clearly a great asset to any race team. So we made a big effort. I think ultimately Lewis had to make a decision, he made one, and we must now look forward."