Anthony Davidson says Red Bull are the team to beat at the Korean GP
Sky F1 pundit expected Button to be more upbeat about pace
Last Updated: 12/10/12 11:03am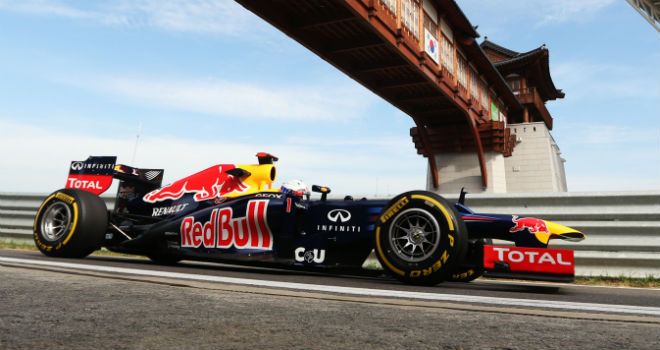 While World Champion Sebastian Vettel set the session's fastest time, both Jenson Button and Fernando Alonso consistently lapped a few tenths quicker than either Red Bull when the teams ran their Sunday specs at the culmination of Friday's action.
However, Button cut a surprisingly subdued figure when speaking to Sky Sports F1 afterwards - an impression not lost on Davidson.
"I was surprised by his answers," said Anthony. "I felt that he felt he had the faster car during the long runs - his engineer even told him as much during those long runs - but then he says 'I've still got pace to find'.
"To me, that was quite bizarre. I thought he would be a lot more confident than that."
After back-to-back victories in Singapore and Japan, there is certainly no shortage of confidence inside the Red Bull camp. Perhaps ominously, Vettel's table-topping effort was set on the third lap of his qualy-simulation run when, in theory, his tyres were already past their prime.
"The Red Bulls are looking very strong in qualy trim. Vettel made two mistakes on his attempts and set his best time on at least his third lap - which is very worrying for the rest," Davidson told The F1 Show.
Red Bull themselves though have attempted to play down their pace relative to their rivals' on the opening day with Christian Horner telling The F1 Show that he was expecting a tight battle for pole and victory.
Asked by Ted Kravitz if he thought the team would be as strong as in Japan, the Team Principal replied: "I really have no idea. It's a circuit of two halves: the first half is power dominated and then the second half is coming back through all the corners.
"Hopefully we can be competitive. We looked okay today but we can see both Ferraris look quick here, Jenson looked quick as well and I'm sure Lewis [Hamilton] will be there as well. So I'm sure it's going to be very tight."