Lewis Hamilton quicker than Jenson Button in P3, with Sebastian Vettel third after brake problem
Championship leader completes only seven laps after suffering brake problem
By Mike Wise at Yas Marina Circuit
Last Updated: 03/11/12 2:18pm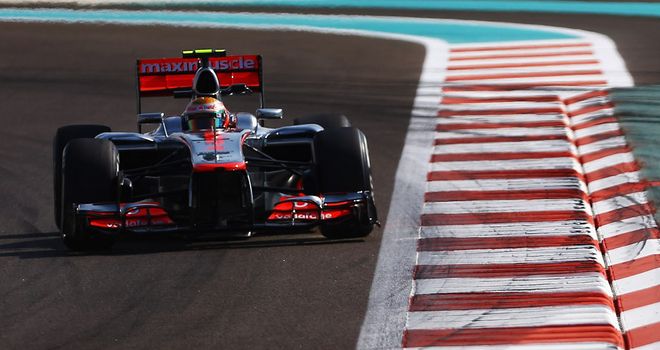 Hamilton lapped the 5.554km Yas Marina Circuit in a time of one minute 42.130 seconds to go 0.290s faster than Button, with defending Champion and current points leader Sebastian Vettel third fastest.
Vettel, however, completed only seven laps in total owing to a right-front brake problem. It was discovered during his installation lap, with Red Bull mechanics spending most the session bleeding the system and affecting repairs before Vettel took to the track again with just five minutes left.
He responded with a time 0.484s off Hamilton's pace but will have lost valuable track time working towards a set-up for qualifying and the race.
Team-mate Mark Webber, who lost time in Friday evening's session with a KERS problem, was fourth fastest ahead of Force India's Nico Hulkenberg.
Meanwhile, Fernando Alonso, who stands 13 points behind Vettel in the Drivers' Championship, was eighth fastest in what was a fairly quiet session for Ferrari.
The team, who are introducing more upgrades this weekend in an attempt to close the gap to Red Bull, had earlier broke the curfew that prevents mechanics working on cars overnight for the second day running.
Romain Grosjean (Lotus) and Pastor Maldonado (Williams) were sixth and seventh respectively, with Kimi Raikkonen (Lotus) and Paul di Resta (Force India) completing the top 10.
As was the case with first practice - in which McLaren also ran one-two - the session was run in temperatures much higher than those that will be experienced in either qualifying or the twilight race itself.
Lotus for one made changes for the session, with Raikkonen's car not featuring the updated Coanda exhaust system it carried on Friday. It did, however, sport the new chassis wings run on Grosjean's car.
Ferrari, meanwhile, have only one new front wing, which Alonso tried. Both his car and that of Felipe Massa, who was 11th fastest, ran different combinations of rear wing as they look for the best possible answer to improve their qualifying pace.
Hamilton was immediately on the pace, moving top 20 minutes into the hour during a 10-lap run on the medium tyre.
He was well over a second quicker than Webber at this stage, with Button then closing to within 0.4s as Vettel sat calmly in his garage.
Drivers switched to qualifying simulations with about 15 minutes to go, although there was little improvement with Hamilton for one gaining a mere 0.018s
Qualifying starts at 1pm GMT, with Sky Sports F1's live coverage underway at 12pm.