Pirelli¿s Paul Hembery says they are happy with work on next season's tyre range after a prototype was tested in Brazil on Friday.
Hamilton sets pace on orange-walled prototype
By Mike Wise at Interlagos
Last Updated: 24/11/12 2:00am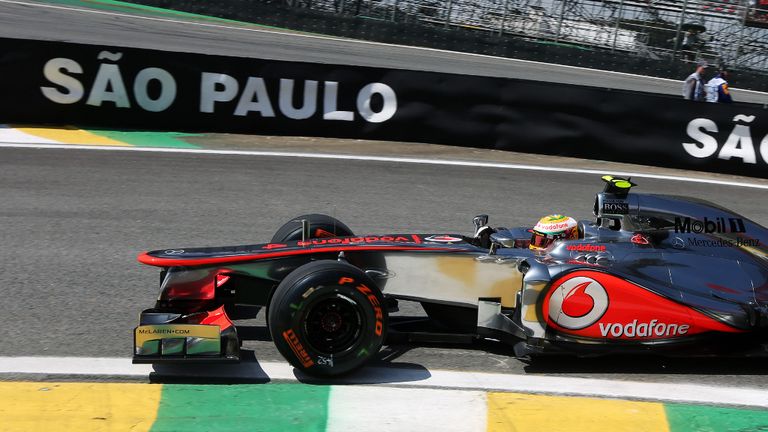 Teams ran the tyre, which featured an orange stripe, during both practice sessions although it featured more during the morning.
Lewis Hamilton set the fastest time of P1, a 1:14.131s lap, using the tyre. The McLaren driver complained that they overheated during his run, although that was likely because his car had been set-up to run the tyres - the medium and hard - nominated for this weekend's race.
The prototype featured a different construction from those currently used, although its compound was identical to the current hard tyre.
Pirelli plan to introduce four new softer compounds next season, continuing a step trend they took at the start of this year.
"Obviously it's a circuit with lots of corners, so if you're going to improve corners then you're going to see it here. So from that point of view we're really pleased," Hembery said.
"The majority of the quickest times were done on the new tyre. The comments back were that mid-corner traction has improved, which is what we were aiming to do.
"It obviously varies through the pitlane - it depends on the particular cars and some had clearly done optimisation work to get the tyres to work even better.
"Warm-up was quicker, which increased thermal degradation but we've seen as well that this afternoon, to be honest, with the current tyre - on the longer runs we've seen some thermal deg.
"Add the new compounds when we get them to the structure, then we're pretty happy as we can be so far.
"It's obviously difficult when you've got a very mixed approach through the grid, because some people are looking forward to designing new cars but a couple of teams are still obviously battling it out for victories," he added.
Pirelli hope the new tyres will offer a quicker warm-up time and also a wider performance window.
A major talking point this season - particularly during the early races - was how difficult it has been to get the rubber to perform.
Hembery added that each 2013 compound will be softer than those used at present.
"It'll be pretty similar to last year: you'll move down a level. But this time we won't be keeping the supersoft, even that's going down as well. On the street circuits, even that was lasting forever with the current cars."