Paul di Resta is hoping to finish on the podium with Force India in 2013
Scot admits he was disappointed to miss out on a top seat
By William Esler
Last Updated: 04/01/13 12:12pm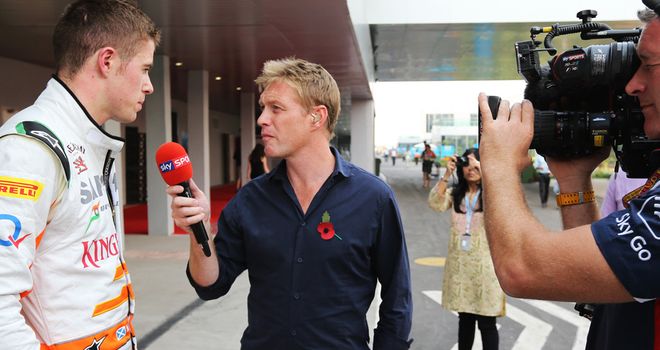 The Scot's best result so far was fourth in Singapore and he is aiming to go one better this season.
"I certainly want a podium and then I want to be on it again," he told The Scotsman. "That's the target.
"But I don't want to luck-in to a podium. For me it has to be a well-earned top-three finish, one which we can build on. We need to do it on merit, and I certainly believe it's achievable.
"But to do it, we need a car capable of delivering fast, sustainable pace right through not only a race weekend, but also the whole season.
"That [Singapore] was definitely the highlight of my season. Everyone in the team delivered their maximum that weekend.
"But it's that level of commitment, drive and performance with which we have to start the 2013 season, and we have to use that as the springboard from which to improve during the season.
"If we can do that, then we can push for podiums and, hopefully, move from seventh in the constructors' championship to fifth. That's the team goal, and it's one I believe we can achieve together."
But, despite the positives, Di Resta admits he was disappointed to be overlooked by the top teams as the assessed their 2013 line-ups. The 26-year-old was linked with McLaren and Ferrari, but missed out to Sergio Perez at the Woking-based team, whilst the Scuderia opted to retain Felipe Massa.
"Of course it was flattering to be linked to those seats," he added. "But I won't deny I was disappointed when both teams opted to go down another route.
"Obviously the seats were within touching distance, but for whatever reason the decisions went against me. But you have to stay positive: our paths may cross later in life.
"There's no hard feelings, and hopefully I'll be able to do something on-track next year which will catch their attention again, and give me another opportunity.
"Obviously there are other drives coming up at the end of next season," he continued, "and I have always said I want to be in a car capable of regularly racing at the front, winning races, and ultimately world championships.
"Being completely honest, that's the level at which I want to be racing."