Pirelli Motorsport Director Paul Hembery says they will be more aggressive in 2013
Italian manufacturer hoping to create an element of surprise in 2013
By William Esler at The NEC
Last Updated: 14/01/13 9:33am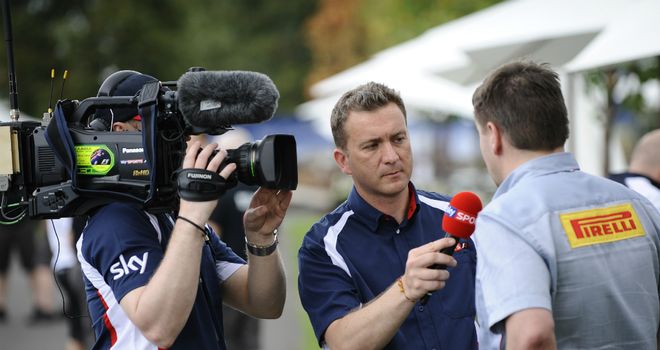 The Italian tyre manufacturer which returned to the sport in 2011, will bring another new generation of their P-Zero tyres to the grid this year, and are hoping to create an element of surprise.
"We've had a good look at what we did last year and what worked - maybe towards the end of the season we were a little bit too conservative and we are hoping we can give a challenge," Hembery exclusively told Sky Sports.
"It probably won't be the same as 2012, because the cars aren't changing a great deal - the platform the teams are working with is very similar so they will understand their vehicle a lot which means they will be able to get the maximum out of the tyres a lot quicker than what they did in 2012.
"Having said that, we will be taking a more aggressive approach, more aggressive compounds and we hope we can create some element of surprise."
The teams had a chance to sample the rubber they will be working with in 2013 at last season's finale in Brazil, and Pirelli's Motorsport Director says they were pleased with the feedback they received.
"Obviously some teams were focussing on trying to win the Championship, but the feedback we got was in line with our own test data," Hembery added.
"We are pleased the teams didn't feel that huge changes needed to be made - they will alter the aerodynamics a bit, but with major changes coming in 2014, the teams will be glad they don't have a major challenge in mastering the tyres this year.
"We will see how winter testing goes - it can be a bit strange as conditions are abnormal, apart from in Austin where we saw temperatures of 7 degrees on one morning session, that's abnormal as well, we'd usually have 15 degrees plus and the winter testing tends to be below 15c which can give you rather strange results in terms of compound performance."
The super-soft tyres were only used four times throughout the season, but Hembery admits they could have used them a lot more.
"At the end of the season last year, we could have used them in the last four races actually - that is the stage it had got to and that is because the teams are very good at their jobs. They have the best engineers in the world, the best drivers and they really found a way of not degrading the tyres, not graining them and we hope we can give them another push in that direction to maybe create two or three pit-stops.
"I'm not saying we are always going to use the super-soft, but we can make more aggressive choices for sure."
Pirelli took a very conservative approach to the United States GP, opting for the two hardest compounds in their tyre range, but there was still some thrilling racing in Austin. Hembery feels that was more to do with the new layout, than the travails teams had getting heat into the tyres and says they will take a much more aggressive tyre this year.
"Obviously it was a new track and the braking points where unknown and you saw a lot of people late braking and running wide and getting overtaken. If we had gone back a week later we would have seen a very boring race so you have to be careful with making assumptions that it was down to conservative tyres.
"It was a lot to do with the track being an unknown quantity and in practice you don't try overtaking people so we had situations where people were working out what were the ultimate braking points. We would go with a much more aggressive approach if we went back to Austin again."