Pastor Maldonado isn't sure whether he will continue to receive Venezuelan state backing
"We've started and now we need to carry on," Williams driver says
By Mike Wise in Melbourne
Last Updated: 15/03/13 8:04am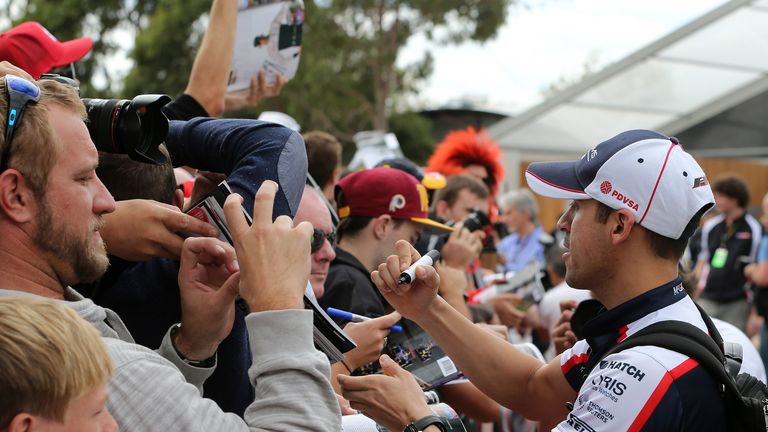 Chavez, who succumbed to cancer aged 58, used Venezuela's oil wealth to fund a multitude of projects, among their number being a concerted effort to raise the profile of the South American country on the world's sporting stage.
Whether or not that support will continue now appears to lie in the hands of the electorate: Chavez's death has triggered presidential elections, with his deputy Nicolas Maduro standing as candidate for Venezuela's ruling socialist party.
When asked in Melbourne whether he would continue to receive backing, Maldonado replied: "Politically, I don't know. I think many of you in the media have said everything is gone for me, but here I am. We'll see."
The 27-year-old, who attended Chavez's funeral last week, added: "It must be possible. It's always possible.
"Chavez changed completely the approach for sport in Venezuela. In the past, people only know Venezuela for the oil and for the girls.
"Now it's changed a lot. We have the best baseball players in the world, a good football team which is getting better and better. We have a driver in Formula 1 who has won a race in a short time.
"It's looking quite good for the future. I think it changed a lot with Chavez being President and now it can be worse. We've started and now we need to carry on."
On the subject of this weekend's Australian Grand Prix, meanwhile, Maldonado said he is targeting a points finish in his Williams.
"I'm here to do my best. It's going to be good if we can get some points this weekend," he said.
"The car is looking not bad. It's a better car than last year's. But we don't know against the other teams, the other cars. It's a big question mark.
"The car feels better in all the single points. It's completely new; we've been working 360 degrees around the car, trying to get 100 per cent of every single component of the car.
Last year's Spanish Grand Prix winner added: "I like this kind of circuit. It's bumpy, slippery, it's going to improve a lot during the weekend as well and I'm always ready for that kind of improvement.
"I hope to be competitive, especially in qualy. And then to have a good race and be in the points."