Williams hope to find some answers at Sepang after a troublesome start to 2013
Technical boss suggests FW35 fundamentally lacks grip
By Mike Wise
Last Updated: 20/03/13 10:47am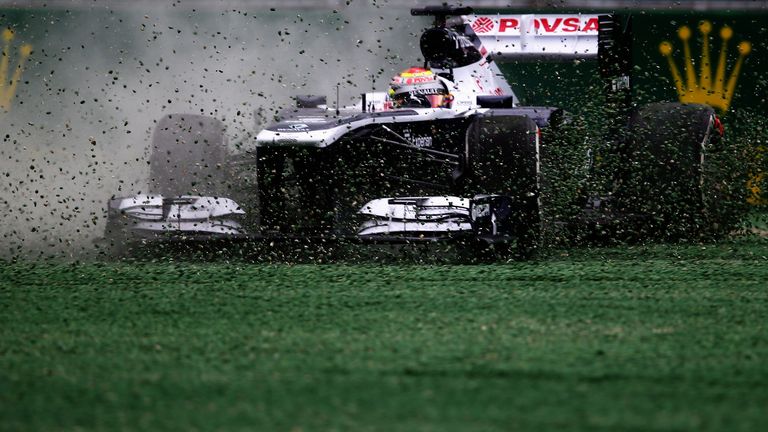 After two promising outings in pre-season testing, the team's new FW35 clearly fell short at the season-opening Australian Grand Prix. Rookie Valtteri Bottas finished 14th on his F1 debut while team-mate Pastor Maldonado spun into retirement.
Not that Williams' poor performance was limited to the race. A sign that all was not well came when both drivers expressed dissatisfaction after Friday practice at Albert Park and their woes were confirmed further in qualifying, which saw Maldonado drop out in Q1 and line up 17th on the grid, one place behind Bottas.
Coughlan said the car suffers from a fundamental lack of downforce and blamed its failure to generate heat in its tyres on that rather than the cool conditions in Melbourne.
"We obviously came through the winter thinking we'd made significant progress but obviously (the weekend) has been a bit of an eye-opener for us," he said.
"At the moment we don't have enough grip. And that compounds itself in tyre wear and warm up. I don't think it's a specific thing to blame on the tyre. We don't produce enough grip."
Williams have decided to go back to basics in their attempts to find a fix after running a back-to-back test of rear bodywork on Friday in Melbourne.
Maldonado and Bottas respectively ran the launch specification and an upgraded version of the team's exhaust solution, with Williams deciding to continue with the former for now.
"We went back to the launch (spec.) because the drivers were more comfortable at the first test and the cooling is a little bit easier with that bodywork. We felt that was probably a better base, with less unknowns," Coughlan explained.
"We'll maybe have a comparison again in Malaysia, depending on the temperature."
With Williams preferring to launch their car later than those of rivals at the first Barcelona test, Coughlan suggested they have since pursued the wrong development path.
"What we've done is, we've gone down an avenue that hasn't reaped a reward. And now what we've got to do is step back from that. We've got some of the set-ups from last year, aerodynamic themes we did last year and then re-assess it and go again," he said.
"The first Barcelona test, when the car first ran, it really was quite good. We haven't taken it forward. If anything, we've taken it backwards. Whereas other teams have taken it forward: Lotus have looked strong all the time, so have Red Bull."
However, Coughlan denied that their woes could last for several races and expressed the hope that higher temperatures at Sepang could at least help the car generate more tyre heat.
Assessing the weekend to come, he added: "That, for us, is going to be an advantage, going somewhere where maybe the tyres will come to us a little bit quicker. But still I think we have some work to do in terms of car development.
"I think we've got something. The car is so similar to last year's car, we've not changed anything fundamentally. Even though the components are new, we haven't changed anything fundamentally.
"(But) I think we've got some homework to do yet."