Malaysian GP qualifying - Driver reaction
The main players have their say on Saturday's action at Sepang after Sebastian Vettel claimed pole position.
Last Updated: 23/03/13 12:42pm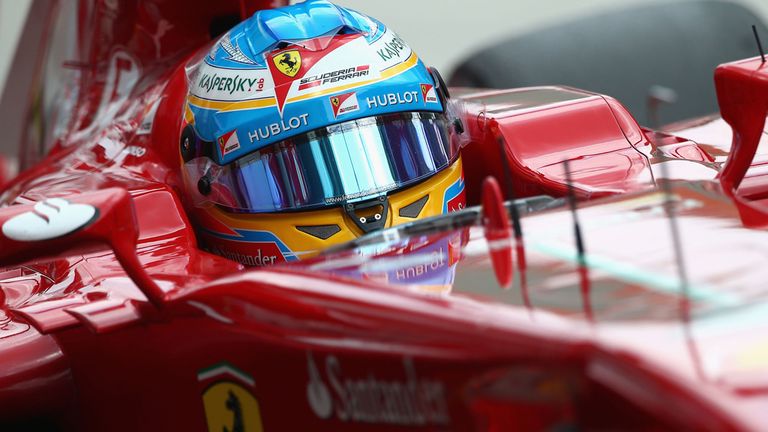 Red Bull
Sebastian Vettel: "It was very difficult as the circuit was half dry and half wet today - so it was difficult to find the right compromise between pushing hard and also saving the tyres. It was the right strategy to come in and change the tyres and the pace was there. It was a good session in Q3 and it was clear what we had to do, so I'm pleased with the result. It's a long race tomorrow and whoever wins will have done the best job. We managed to save some tyres today which will help if the race is dry, but we will see."
Mark Webber: "It's disappointing to finish fifth. We didn't get the timing quite right in the last part of Q3, I thought I had more laps. We were quick enough, but we went too slow on the lap when we should have been going quick and it meant we didn't get a last timed lap in. The time doesn't represent how comfortable I felt in the car today and it's frustrating when you put so much work in and know you could have done better. I'm looking forward to the race tomorrow - it should be interesting with the weather."
Ferrari
Fernando Alonso: "I am very happy with this position as it's been too long since I qualified in the top three! Something I have usually managed to achieve in the race has been missing for quite a while: maybe the rain
helped us a bit as we were not the quickest in the dry, but starting in the top three gives us a realistic chance of a podium finish and we can even dream about winning. In Q3, when we had seen the track was drying quickly, we had a moment's hesitation, because in the dry, the intermediates only last one or two laps before beginning to degrade. But in the end, it seemed the most sensible choice and it worked out well. Of the past three years, this
seems to be the moment when everything appears to be working for the best: performance, strategy, pit stops. Now we must see how tomorrow will turn out, because it's always a lottery if it rains. Even if, in the current Formula 1, the start is not the most important thing, we will still try to make a good one in order to maintain position or even to try and get past Vettel at the first corner. Then we will see: our race pace in Australia and the
long run here on Friday means we can be reasonably optimistic."
Felipe Massa: "It was a great qualifying in which we managed to make the most of all the opportunities that came our way. In Q3, we decided to stop towards the end of the session to fit a new set of intermediates and this allowed me to do a lap good enough to take second place on the grid. I am very happy with this team result, which is down to the great job done over the winter months. The car has shown itself to be competitive
in all conditions, both in the wet and dry, but we must continue to improve. Today, we were up against very strong opposition and maybe the rain helped us a bit, because in normal conditions it would have been harder to aim for this result. Now we can expect a long and difficult race in which anything can happen and in which strategy and tyre management will be the key, while the uncertainty over the weather won't help anyone".
Mercedes
Lewis Hamilton: "I'm pretty happy with fourth place considering the conditions today. The car was not too bad in the dry but the balance could have been a lot better, then it was pretty tricky conditions in the wet during Q3. We did our lap with older tyres than the guys in front, which was a bit unfortunate, but our pace was good overall so I can't complain. It's the second race on the second row for me and there are lots of positives to take out of the weekend so far. Our long run pace looked pretty good compared to the other teams so I'm hoping for dry conditions tomorrow."
Nico Rosberg: "In the dry conditions I had a great balance today and everything went perfectly which was nice to see. Once it began to rain unfortunately we weren't able to get the most out of the car and at the end of Q3, my tyres were worn as some parts of the track were drying and I wasn't able to improve my lap time. We have a good car for the race and a strong starting position from the third row of the grid so I'm looking forward to tomorrow. We should have some good opportunities and will need to make sure that we make the most of them."
Lotus
Kimi Raikkonen: "We weren't quick enough on the intermediates so I don't think we could have found much more time in the wet today. For sure I wanted more but it is what it is and I hope we'll do better on Sunday. It's obviously disappointing to lose three places on the grid, but we'll have to see what happens in the race. I have no idea what the weather will do, but it will be the same for everyone."
Romain Grosjean: "The car felt better today for sure and we were looking good after free practice earlier this afternoon. We should have easily had both cars in the top ten, but unfortunately the skies opened at just the wrong time for me. My first run in Q2 was on scrubbed tyres and then as soon as we came in to fit the new ones it started raining, so for now they stay new. It's a shame but there's a long race ahead of us tomorrow and we now have extra sets of fresh dry tyres in our pocket so hopefully we can use them well."
McLaren
Jenson Button: "I don't think we can really expect to qualify any better than P8 right now - but, having said that, to be just two-tenths off the guy who won last weekend's Australian Grand Prix [Kimi Raikkonen] in Q3 can't be too bad. Q3 was wet today, of course, but during Q1 and the first half of Q2 it appeared that perhaps we're now a little more competitive in the dry than we were this time last weekend. We're still not quick, but the guys are doing a fantastic job to get everything they can out of our car. As for tomorrow's race, well, when you've got a quick car, you never want it to rain. When you've got a less quick car, you do want it to rain. Today, though, we didn't have great pace on the Intermediates [tyres] in Q3, when it was raining, so all I'll say is that as always we'll battle hard and see what the race brings."
Sergio Perez: "Considering how our car was behaving at Albert Park just a week ago, I guess you could say that was an encouraging qualifying session. Jenson and I both got into Q3, which was a relief, but obviously we know we've still got a long way to go in terms of car development. Having said that, I can see how hard the team is working to improve our car, and it's a really good feeling to be a part of that. It often rains in the late afternoon here in Sepang, so I guess tomorrow's race may well be affected by wet conditions, given that it's scheduled to start at 4.00pm. But I really enjoy racing on this circuit, and, whatever the weather, I'll give my best tomorrow for the best team in Formula 1."
Force India
Adrian Sutil: "It's a shame that the rain arrived for Q3 because our pace in the dry had been very strong. I'm still not totally confident with these tyres in the wet and the car was sliding around in the corners with too much oversteer. I will hope for a dry race because we have a competitive car and I'm happy with the balance. The target is to try and push to the front tomorrow with a good strategy and come away with points or maybe more."
Paul di Resta: "Quite a frustrating day because we got caught out by the weather. We've looked strong this weekend so felt quite confident heading into qualifying, but the rain arrived earlier than the team expected. Now we need to see what the weather does tomorrow, but I will certainly come back fighting. I've got lots of new tyres, which is more than enough to complete the race and the car has been working well here so far."
Sauber
Nico Hulkenberg: "The balance of the car is still not quite right. We went out on a set of used medium tyres in Q2. We didn't have any information on the weather because the radar was broken. If we would have known the rain was coming we would have gone out on a new set. In general our pace wasn't as good as I expected it to be, but nothing is lost starting from P12. We have to wait and see what the weather will be like during the race tomorrow and prepare for all conditions."
Esteban Gutierrez: "Unfortunately, we were not able to extract the most out of the car in Q2. We went out too late on new tyres and were caught out in the rain. The team brought the set-up of the car to a really good base from FP3 to qualifying, which was something very positive. Now we are looking forward to the race. We have to analyse everything and get a good strategy together for tomorrow in order to be in the points."
Williams
Pastor Maldonado: "We were unlucky with the timing of the rain in Q2 which meant we were forced to abort the lap. The car felt better on track and there was a chance we could have been fighting to get into Q3. We still have work to do to improve the car and close the gap, but we will work hard now to prepare for the race tomorrow."
Valtteri Bottas: "It was disappointing not to get through into Q2 today, especially after we felt the car had improved since last week. The prime tyre run felt good with the car responding well. We expected a much bigger gain from the medium compound but we didn't get any extra grip. The lap times were tight at the end so we just missed out on Q2, but our long-run pace will mean we will be aiming to gain some places from our grid position tomorrow."
Toro Rosso
Daniel Ricciardo: "Coming into qualifying today, if I'd been told I could sign on the dotted line for thirteenth, I'd have taken it. It's a decent result and we haven't been that far up the time sheets all weekend in practice. Looking at it that way, thirteenth is quite good, but in Q1, we were quite competitive and only one hundredth of a second from the top ten. With the rain coming, maybe we missed an opportunity to do better. We have improved but I still want more. Tomorrow, I plan to move up the order in what could be an unpredictable race. I really want to be in the top ten and get some points on the board early in the season."
Jean-Eric Vergne: "I don't know how much better I could have done, but it's never nice to be out at the end of Q1. I was held up in the final sector by another car and lost between four and five tenths and that cost me the chance of getting to Q2. If we want to find positives, then at least I have saved a set of new tyres for the race, which could be important as this track is very hard on tyres. Being behind my team-mate? It means nothing today and the important thing is to be in front tomorrow! As usual, I am still being optimistic about tomorrow and hope to go after some points. Anything can happen in this race and in free practice we saw we had a good pace on a long run, which is encouraging."
Marussia
Jules Bianchi: "I am obviously thrilled with my qualifying lap today, but seeing how close we were to Q2 - just 0.5s - only left me wanting more. It has not been an easy time in practice, as we seem to have been struggling quite a lot with the tyre degradation. In the break we worked to put all of that together into a single lap for this afternoon and it all came good in the end, especially with the weather, which stayed dry for us. I am not sure we can expect the same dry conditions tomorrow - we will see. I do feel we can have a very interesting - and maybe exciting - race and show some more progress from where we were in Melbourne. My thanks for the Team because it has been difficult to progress the car since yesterday, but to do so in this heat and humidity is very tough. I am not sure it will be any easier tomorrow but I hope we can bring home another good result for everyone as some reward."
Max Chilton:
"Today has been a tough day for us and unfortunately it didn't get any better for qualifying. We've been dealing with some significant tyre wear issues all weekend and these have hampered our progress quite a bit. This left me rather on the back foot going into qualifying and although the steps I was making to play catch up were satisfying, they were always going to be a step behind our true pace. It's disappointing because had we not suffered quite as much, the performance is obviously in the car and there to be taken advantage of. That's today done and dusted though and my thoughts now turn to tomorrow. I'm pretty confident that if we can get the Caterham off the line we can get into the right position and then start making an impression on the midfielders."
Caterham
Charles Pic: "We had a very good FP3, really making progress, especially on the long runs, but I don't think there was a lot more we could have done today in qualifying. I had a lot of understeer on my first run so we adjusted the pressures for the second run but I still couldn't dial out the understeer so with the performance gap to the cars ahead we probably finished up about as well as we could have hoped.
"So now we focus on tomorrow. In FP3 we found a good direction to go in the race so I think it's going to be interesting. It'll almost certainly rain and I like it when the conditions are changing on track so let's see what happens."
Giedo van der Garde: "Qualifying didn't go well for me today to be honest. I've had an issue with a lot of oversteer on the option tyres all day and really couldn't get them to work as well as they did at the last race and that obviously hurt my pace. It's odd as the car felt good on the hard compounds in FP3 today but I just couldn't get the mediums to work so we'll have to look at that again tonight.
"However, with the car performing well on the primes and the pace we have on the inters I think tomorrow could be interesting. It's rained every day at about the same time as it'll be halfway through the race tomorrow so strategy's going to be really important. Physically I feel really good, totally prepared for the race, so we'll look at the plans for the race and hopefully pick up where we left off in FP3."