Lotus's Eric Boullier says Malaysia's team orders row came too soon in the season
Team boss reckons Red Bull and Mercedes made the wrong decision
By Mike Wise
Last Updated: 05/04/13 3:16pm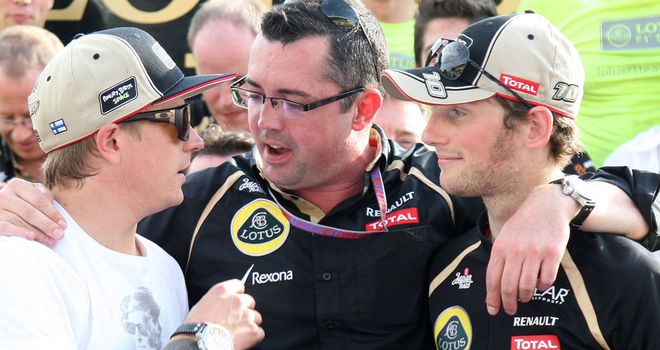 Red Bull drivers Mark Webber and Sebastian Vettel respectively led Mercedes' Lewis Hamilton and Nico Rosberg during the closing laps of the race at Sepang. Yet while Rosberg obeyed Ross Brawn's instruction to hold station behind Hamilton, Vettel deliberately flouted a similar order from Red Bull and fought wheel-to-wheel with Webber.
The fight was ultimately settled in favour of the defending World Champion - Vettel albeit incurring the wrath of both Webber and his team and later apologising to both.
According to Boullier, however, the situations should not have arisen in what was only the second of 19 races this season.
"Yes, it happens because of the adrenaline and excitement of winning a race, but I think in Formula 1 it should not happen," he said in Lotus's preview of next weekend's Chinese Grand Prix. "Firstly, we should not have team orders so early in the season; not while the championship is at such an early stage.
"When it happens you need to fix it and fix it quickly."
Boullier said that in a team which offers neither driver preferential treatment - which Red Bull purport to do - the primary concern of each should be their employer.
"Team orders are part of the sport. You have two main strategies to run a team. You might favour one driver, clearly stating 'driver number one' and 'driver number two' if your target is chasing the Drivers' Championship title," he said.
"Alternatively you have both drivers equal, as this is the way you want to go racing, meaning the team holds a lot of importance. The team gives both drivers the same cars, the same conditions, the same performance, but there is a commitment from the team to the drivers.
"In that case I can understand team orders, because you are working for the team, not for the drivers; they are working for you. Sometimes it seems that emotion takes over, but don't forget that the drivers are paid to work for you, as they are for the company.
Boullier added: "I don't see any people in the world who could disobey their company and not be sanctioned, or at least give clarification as to why they've disobeyed."
Meanwhile, Lotus's Technical Director James Allison has, unsurprisingly, failed to back Red Bull's bid for a move back to Pirelli's 2012 tyres.
Having struggled with tyre degradation in both Australia and Malaysia - where their concerns prompted the order which Vettel disobeyed - the World Champions are said to feel that the latest tyres, which are softer, compromise their car's performance unfairly.
"Certain teams are keen for a switch back to last year's rubber, but teams will always push for what's in their best interest," Allison said.
"We feel the current tyres makes for entertaining racing, but then we would say that as our car tends to prosper when the tyres are tender."
Allison also confirmed upgrades Kimi Raikkonen and Romain Grosjean will run on their E21s at the Shanghai International Circuit.
"We'll be upgrading Romain to the latest spec exhaust and related bodywork as run by Kimi in Malaysia. We also have a few small tweaks to the front wing, rear wind endplates and sidepod Vanes," he added.
"One of the benefits gained from the new exhaust package is an increase in rear downforce through lower speed corners."