Bernie Ecclestone doesn't anticipate protests disrupting this year's Bahrain GP
"I haven't had any negative reports from anybody there," F1 supremo says
Last Updated: 08/04/13 9:27am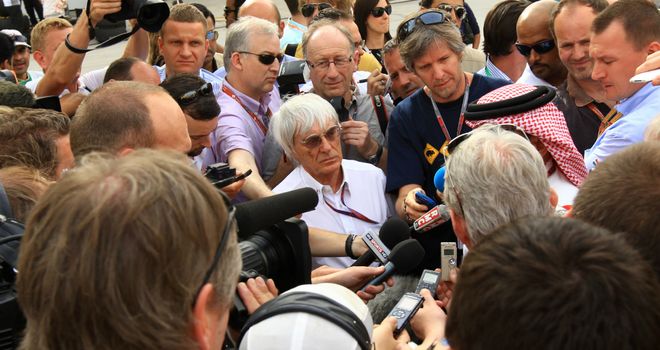 "I haven't had any negative reports from anybody there," F1's commercial rights controller told Reuters on Friday ahead of the April 21 race at the Sakhir circuit.
"Somebody who actually lives there came to see me yesterday and said everything's very normal."
Last year's grand prix went ahead amid tight security against a backdrop of Shi'ite-led pro-democracy protests in the Gulf island kingdom.
The 2011 race was cancelled altogether after an attempted uprising against the country's Sunni elite - headed by the ruling al-Khalifa family - was crushed.
At least 35 people were killed, although activists claim the death toll was far higher.
The two sides resumed reconciliation talks in February for the first time since July 2011 and, although progress has been slow, Ecclestone reckons the signs for the race are positive.
"I think they are talking now anyway... so I don't think they'll upset the talks by making protests," he said.
"It didn't help them last year, so if they had any brains they'd just get on with their talks."
At least ten civilians and several policemen were injured last month during a demonstration to mark the second anniversary of forces arriving from neighbouring Saudi Arabia to help crush the uprising.
Pictures published in the foreign media have shown slogans daubed on walls calling for a boycott of the race but Ecclestone does not anticipate it being targeted directly.
"No concerns, none at all," said the 82-year-old, who also confirmed that he would attend once more.
"Yes, yes, absolutely," Ecclestone added. "Everything that is there is as far as we are concerned good. They do a very, very good job of the race, the whole support from the top is good. No problems."