Jenson Button says "extreme" China tyre degradation just like winter testing again
He also admits new MP4-28 parts 'not as big a step as expected'
Last Updated: 12/04/13 2:48pm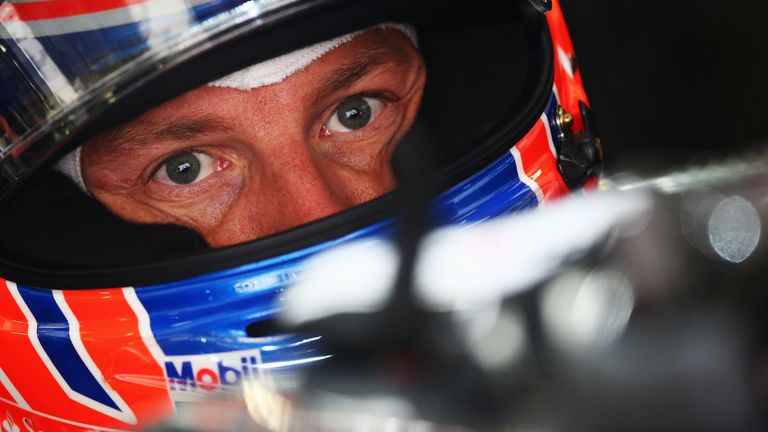 In keeping with the nature of recent years at the Shanghai circuit, tyre strategy is set to set to play a predominant role in this weekend's event after the drivers complained of particularly fast-wearing 'option' tyres in afternoon practice.
Indeed, speaking at the end of the opening day to Sky Sports News, McLaren driver Button suggested the situation was as bad as it had been back in pre-season testing, when cool European conditions were thought to have exacerbated the problems.
Asked if he had seen a situation as bad as this before, the 33-year-old replied: "We all have, in the winter.
"You would say that tyre is more the feeling we had in the winter than the first two races.
"It's extreme degradation and from a tyre that's doing a [one minute] 35 in qualifying spec and then in the race after eight laps doing [one minute] 48s, it's a big difference. We're slower than GP2 cars by about five seconds."
The sudden drop-off in lap time experienced by drivers in P2 opens up the possibility that teams could alter their usual qualifying strategy on Sunday in order to prioritise tyre saving over grid position.
Put to him that drivers competing in Q3 could sit it out in order to give them the option of starting on the more durable medium tyre for the first stint on Sunday, Button replied: "The problem is then you get held up when you're on a good tyre and everyone else is on a soft tyre so they're holding you up - and you still have to run the option tyre anyway - so it's very difficult to know what to do.
"First of all we've got to get into Q3, that's got to be our aim."
The difficulties with tyres came amid what had always promised to be a busy day to McLaren owing to the fact the Woking team had brought a suite of new development parts to try on the underperforming MP4-28.
The changes, which include a revised exhaust profile and new floor, are designed to bring the team closer to their traditional front-running rivals and Button said there was naturally still more performance to exploit after day one.
"We've got obviously new parts on the car, which is great," he added.
"I don't feel we have the best out of them yet but with some tweaking overnight hopefully we can find some more gains."
Speaking later in McLaren's end-of-day press release, Button was somewhat more candid.
"We can't yet conclusively tell if the upgrades we brought to this race have improved the car," he admitted.
"They're perhaps not as big a step forward as we'd expected - the issues with the car are still there - but the car does feel a little bit better.
"I don't think we'll be fighting at the front this weekend, but we'll definitely be fighting someone."