Jenson Button says 'unusual' nature of Spanish GP means order won't stabilise yet
McLaren driver expects degradation to again dominate at Barcelona
By James Galloway in Barcelona
Last Updated: 10/05/13 8:22am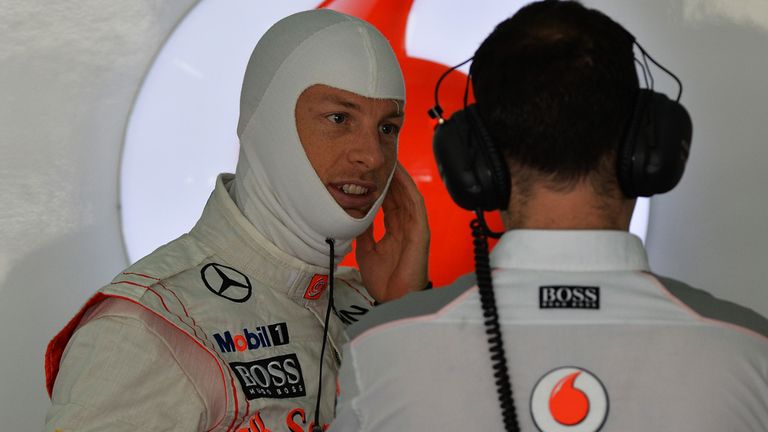 As has become customary at the start of the European stretch of the campaign, teams are bringing their first big upgrade packages of the year to Barcelona and several outfits' 2013 hopes - most notably Button's McLaren squad - have been said to rest on how successful those changes prove.
But while acknowledging that it is "important" that McLaren make a clear step forward with their development parts this weekend, Button stopped some way short of labelling it a season-defining weekend.
Indeed, with ambient temperatures of no more than 20 degrees currently forecast for Sunday's race, the 33-year-old suggested tyres would again dictate the success or otherwise of a team's performance.
"This is quite an unusual race. People are saying 'this is the start of the second part of the season, we're really going to see where everyone is here' - I don't think that's the case at all," Button told reporters in the Catalunya paddock.
"The way the tyres were in winter testing it's going to be very high degradation. It's not going to be hot this weekend so it's not going to be that different to the peak we saw in winter testing.
"So there's going to be a lot of degradation and I'm not so sure you're going to see the outright performance of a lot of the cars."
Howeve, irrespective as to whether or not the 2013 pecking order will begin to stabilise from this weekend, McLaren are aware they need to make a statement that they're firmly on the path to recovery after displaying underwhelming form with the MP4-28 in the opening four flyaways.
Having not driven the upgraded car in the team's simulator in between races himself, Button is reserving judgment on how successful the package will prove out of the box. In any case he admitted that improved correlation data was equally as crucial as time gained on the stopwatch.
"I think it's very difficult to look at numbers, simulations and what have you, so I think we have to reserve judgement until we actually drive the car," he cautioned.
"There's a lot that's different you'll be able to see. The aerodynamics of the car, you'll understand the difference in airflow of the car. Hopefully it works. Maybe it all won't work, but we've just got to get a better understanding and a better correlation back at the MTC [McLaren Technology Centre].
"But if we get a good correlation between the circuit and the wind tunnel that's just as important as seeing an improved lap time this weekend."
And echoing team-mate Sergio Perez's Thursday caution, Button added: "It looks nice - there are some really cool little bits on the car - but I don't think it's really going to be enough to fight right at the front. We will see an improvement and hopefully that will help us understand the airflow of the car a little bit better."
Furthermore Button admitted he would settle for a more straightforward progression in to the top-ten shootout in qualifying.
"I've been in Q3 every race which is a surprise really - that's why I was so excited in Bahrain! But, yes, a car that can get into Q3 and not be right on the edge of falling out in Q2 would be a good step forward for us," he conceded.
"But the important thing for us is more the understanding with the correlation with the wind tunnel. Looking at straightline testing [that McLaren carried out prior to arriving in Spain] we have a better understanding."