Lewis Hamilton laughs off talk of Sebastian Vettel joining Mercedes for 2014
Reports in Germany link Vettel with a move to Silver Arrows
By Pete Gill
Last Updated: 12/05/13 12:07pm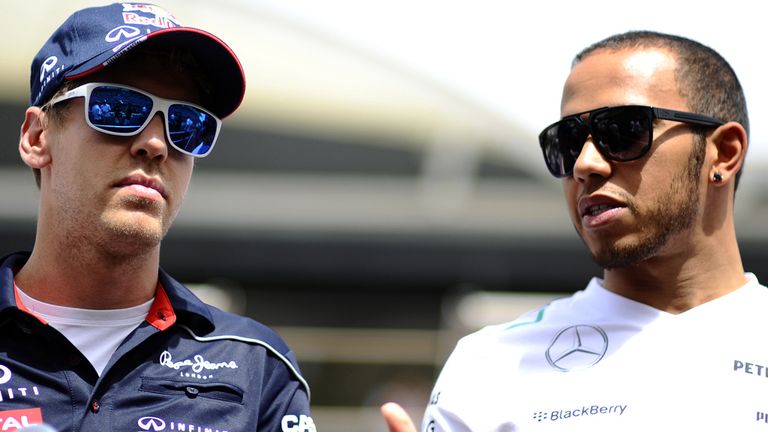 Although the reigning World Champion has a binding contract with Red Bull for next year, Vettel has been persistently linked with a move away from the team in recent months. While fevered talk of Vettel transferring to Ferrari has been muted of late, reports surfaced this week in Germany that Niki Lauda, the driving force behind the capture of Hamilton last year and recently appointed Non-Executive Chairman at Mercedes, was intent on replacing Nico Rosberg with the three-times Champion.
Hamilton, though, is unimpressed by the speculation.
"It's not something I need to think about, because it's not going to happen," he told The Daily Telegraph when questioned about the reports.
"Nico qualified on pole in the last race, so he clearly has the speed and deserves to be here. I have just come to the team and I'm not doing too badly, so I doubt they will be replacing me.
"It doesn't affect me in the slightest. Why should it? I'm comfortable where I am. I have a solid contract and a great lawyer, as have Mercedes."
Hamilton's current contract with Mercedes runs for the next two-and-a-half years and with Felipe Massa revitalised alongside Fernando Alonso at Ferrari, it is likely that, at the sharp end of the grid, driver changes will be few and far between for 2014 with only Mark Webber's seat at Red Bull under realistic threat.
Although Toro Rosso's Daniel Ricciardo has been touted as a candidate to replace Webber if, as expected, the veteran calls time on his F1 career at the end of the season, the widespread expectation in the paddock is that Lotus's out-of-contract Kimi Raikkonen will be hired to partner Vettel in 2014 - a mouthwatering pairing which would arguably be the strongest F1 has seen in seven years.
Hamilton recently opined that, mellowed by age, he could form a compatible partnership with Alonso, with whom he clashed corrosively to dramatic - and title-costing - effect in 2007. The reality, however, is that with both men bound to their current employers, Hamilton and Alonso are unlikely to co-exist again. Nor, for that matter, does it currently seem likely that Vettel will ever partner Alonso or, unless Mercedes were to successfully lure him out of Red Bull, Hamilton.
Shame.