Sebastian Vettel voices tyre safety concerns ahead of Pirelli's anticipated tweaks
F1's tyre supplier set to make smaller changes than initially thought
Last Updated: 23/05/13 12:31pm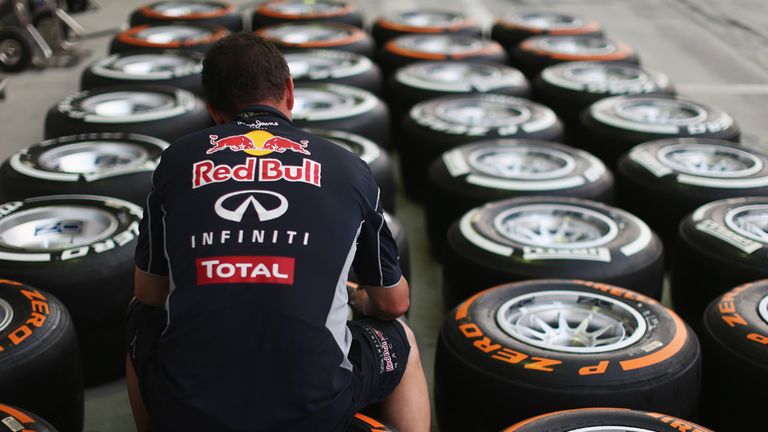 The sport's sole tyre supplier reacted to the criticism thrown at them in the wake of the pitstop-filled Spanish GP by announcing plans to revise the construction of their 2013 compounds from the Canadian GP onwards in order to both bring races back in line with their stated two-three pitstop target and stop the trend for tyres to lose their tread when cut by debris.
However, it has since emerged that those alternations now won't be as widespread as initially thought with Pirelli only able to make tweaks that focus on safety considerations during the course of the season if they don't have the approval of all the teams.
F1's 11 outfits remain divided on the current-specification tyres with both Lotus and Ferrari reacting angrily to the originally announced changes last week, while Red Bull have been outspoken critics of the fast-degrading rubber all season.
And underlining Red Bull's opposition to the tyres, triple World Champion Vettel expressed particular concerns over the delaminations, such as those experienced by Lewis Hamilton in Bahrain and Paul di Resta in Spain, ahead of the Monaco GP.
The German strongly suggested that the tyres weren't safe enough in their current guise, while also appearing to question Pirelli's official version of events regarding the cause of the failures.
"Obviously it's not our decision [on what changes to make] but on safety grounds as well I think we have seen a couple of occasions where - I don't want to talk bad about people - but they have to do a better job on safety grounds," Vettel said.
"We saw that people suffered the tread delaminating, blowing up. Fortunately nothing happened, but it's not because drivers drove over debris, it's because the tyres are simply not good enough and that can't be safe.
"We have got a lot of marbles which to some extent can be dangerous, so I think there's certain things that we need to be careful with because the last thing we want is a big off.
"Here [in Monaco] on the straight, down to the chicane, if you have a tyre off I think it's something that none of us want to see."
Pirelli themselves have confirmed that work is underway to make tweaks that please everyone in order to improve safety aspects, but which crucially don't dramatically alter existing performance levels.
"The changes required would appear less than first envisaged," Pirelli's motorsport boss Paul Hembery told Reuters. "We're trying to find something that is sportingly equitable amongst the vast majority that allows us to rid ourselves of the tread (problem).
"We're hopeful we can do that without making such a change that would radically alter the work of any team so far."
The 2013 Monaco Grand Prix this weekend is live only on Sky Sports F1. Don't miss out, upgrade or subscribe to Sky Sports today