Pirelli 'close' to deal on Canadian GP tyre changes but still uncertain over F1 future
Italian firm says lack of 2014 contract now 'extremely serious'
By James Galloway in Monaco
Last Updated: 24/05/13 10:19am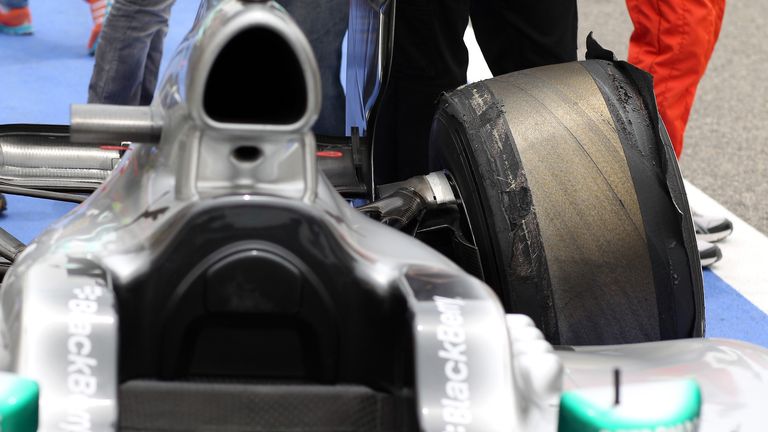 With the Italian manufacturer having had to row back from the more significant changes they had initially planned to make to their divisive 2013 compounds for next month's Montreal race, Pirelli have been seeking agreement among the teams over the alterations they will ultimately make to cure the spate of tyre delaminations seen in recent races.
Some teams have continued to stress that the tweaks could still have an effect on the current competitive order, but speaking to reporters following Thursday practice in Monaco, Paul Hembery, Pirelli's motorsport boss, revealed that a consensus was finally not far away.
"Basically we're very close to having an agreement with all the teams, which is really important, about the change we want to make to the rear tyre," Hembery revealed.
"We want to get rid of the delamination that we found has been caused by cuts in the tyre, debris-induced which creates a weak spot and overheating. We've been able to replicate that now in our laboratories and our internal testing and we believe the solution we have will completely resolve that."
However, while one fire appears close to being put out, Hembery was far more pessimistic over the progress of Pirelli's contract renewal talks for 2014 onwards.
The Briton had declared during winter testing that he hoped to have the Italian firm's future resolved by April or May but no deal has yet been struck.
"Apparently on the 1st September we need to tell them [the teams] everything they need to know about the tyres for next season but we're now mid-May so you can imagine how ludicrous that is when we haven't even got a contract in place," Hembery suggested.
"Maybe we won't be here anyway..."
Pressed on whether his final comment had been tongue-in-cheek or if the contract situation had really reached a critical level, Hembery added: "Two weeks have past [since he last spoke] so it's grown. At a certain point somebody's got to make a decision. We've been trying to say that something needs to happen and quick."
Elaborating on why the contract situation had become so critical, Hembery explained that such are the dramatic changes to the cars and engines for next season that development of the 2014 compounds wouldn't be a straightforward as simply tweaking the existing compounds and structures.
"I've already said we'll never declare an internal deadline but clearly time really is too late," he admitted.
"Things are getting, as far as we can see, extremely serious because the changes next year are so substantial that the sport has to make a rapid decision because aside from having the fixed resources in the business involved in F1, there's also the technical job.
"We need to do a technical job as well - it's not a case of maybe putting a harder compound onto this year's tyres. The changes are so dramatic that we probably need to do a thorough re-engineering of the tyre. That takes time and the longer this goes on it makes our job impossible and there comes a point where probably you say 'well, we don't have time to do the job'."
The 2013 Monaco Grand Prix this weekend is live only on Sky Sports F1. Don't miss out, upgrade or subscribe to Sky Sports today or purchase a 24-hour day pass from Now TV