Kimi Raikkonen is just as angry with Sergio Perez as he was after their Monaco collision
Finn says he only trusts five F1 drivers out on track
By Mike Wise in Montreal
Last Updated: 07/06/13 12:55pm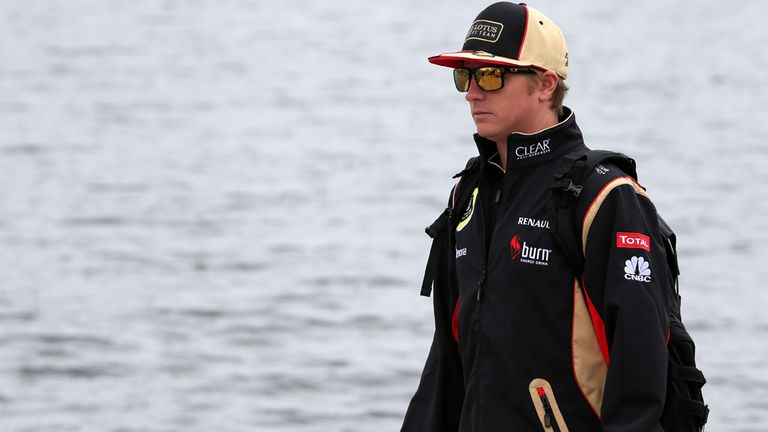 The pair got too close for comfort towards the end of the race on the famed street circuit when Perez, on a charge having already muscled his way past McLaren team-mate Jenson Button and Fernando Alonso's Ferrari, attempted to put one over on another World Champion at the harbourfront chicane.
The Mexican did manage to gain sixth place, although a damaged car eventually caused his retirement. Raikkonen, meanwhile, picked up a puncture for his troubles and was forced to pit before embarking on a late charge himself and salvaging tenth place.
Asked about the antics of Perez - who tried a similar move on the Lotus driver at the same place a few laps earlier which forced both into the run-off area - after the race, Raikkonen did not mince words when he suggested that "maybe someone should punch him in the face".
Thankfully, words were not turned into deeds when the pair found themselves sat next to each other during Thursday's autograph session at Circuit Gilles Villeneuve. Yet by his normal standards, Raikkonen cut an outspoken figure when the subject was raised later.
"There's nothing else I could have done but drive straight," he said of the move. "I'm using my own line and could easily have made the corner. And he obviously he comes too fast and stops.
"There was no way he was going to get past me unless I moved over and I didn't really feel like I should move over when a car comes too fast. I did that already about five or six laps earlier; it was just because I saw that he came too fast and he would have hit me."
Raikkonen was, by the skin of his teeth, able to maintain his record of 23 consecutive points finishes in Monaco and will equal Michael Schumacher's record if he manages another this weekend.
Of far greater importance to him, though, is the valuable ground he lost to title leader Sebastian Vettel. Raikkonen now trails the defending World Champion by 21 points.
"That hurt, the points. But I don't feel any different now. It doesn't change the fact that he f**ked our race up. Even if you asked one year from now, it's still the same ending," the 2007 Champion insisted.
"We got one point back but it doesn't change that it wasn't right."
Of this weekend's record-equalling attempt, Raikkonen added: "I don't care about that. I want the points. If it comes, it comes."
He suggested that Perez's driving will be raised in Friday's drivers' briefing and it is to be presumed the 23-year-old's name does not feature among the five Raikkonen claims are the only F1 drivers he fully trusts.
Asked whether he would tread more warily around Perez in future, Raikkonen replied: "Sometimes you have to with some guys because you cannot trust them. But if you take the top, maybe, five guys, you trust them and you know they're not going to turn into you and they're going to race fair.
"You can be hard but you can be fair. It's okay to be aggressive but you have to have some idea behind the overtaking manoeuvre, really, rather than just hope he's going to move over.
"You know certain guys will race hard and fair but some guys, for sure, you don't always know what to expect.
"Some guys expect you're going to move over because there'll be an accident."