Kimi Raikkonen has re-iterated that his options for the 2014 season remain open
Finn admits that he has already held "small talks" with Red Bull
By Mike Wise at Silverstone
Last Updated: 28/06/13 12:33pm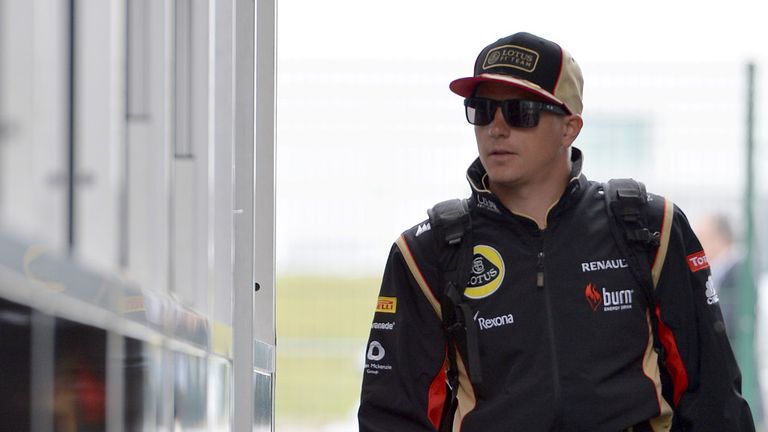 The Finn was very much a man in demand in the Silverstone paddock on Thursday following Mark Webber's surprise announcement that he is quitting Red Bull and F1 at the end of the season to race sportscars for Porsche.
Raikkonen first became linked with a move to the World Champions in the wake of Webber's dust-up with team-mate Sebastian Vettel at the Malaysian Grand Prix. He is currently racing on a one-year contract with Lotus and despite maintaining that he's happy there, the 2007 World Champion also expressed his desire to race the fastest car he possibly can.
"I still don't have an answer for what'll happen next year," Raikkonen said. "It hasn't changed since the last two races. Obviously people will be talking more about the chances but it hasn't really changed what I will do next year or what my decisions are. They're still open.
"Obviously I have to discuss with certain people, but that doesn't mean there's no secret. I have no contract; this is normal in Formula 1. I've nothing for people until there's something certain on paper.
"I will tell people immediately then, so everyone stops asking the same questions."
However, in an interview with Simon Lazenby broadcast on The F1 Show later, Raikkonen revealed that he had already held "small talks" with Red Bull.
"It might be an option and we have to see what happens. Obviously I don't have a contract for next year and that's no secret, but I would say Lotus or them is the only options," he added.
Asked about the prospect of racing an Adrian Newey-designed car, the 33-year-old said: "You always want to try and get the best car. They've shown they have the best package overall for the last few years."
Raikkonen admitted that any decision would be difficult. He is settled at Lotus, who not only have provided him with a race-winning car but also the relaxed environment he prefers.
That wouldn't necessarily be the case at Red Bull, whose image as free-wheeling, fun-loving, upstart mavericks has faded in direct proportion to their on-track success.
"I think whatever the decision will be, it won't be easy," Raikkonen mused. "It's never easy and it's not the first time I've had different options on the table. Then you take the one that's right for you at that moment, so it's hard to say whether it's the right or wrong decision. But you have to live with it.
"Only you can make the decision yourself."
Raikkonen, currently third in the Drivers' Championship, admitted that Lotus have looked after him well since he returned to F1 following a two-year hiatus during which he rallied and even had a go at racing NASCAR.
"It's been perfect. Without them, I obviously wouldn't be back in Formula 1. They've also got something out of it. I have no complaints," he said.
"Obviously there are certain things that have to improve but I've had a great time with the team so far, so whatever the decision will be, it'll be difficult.
"I think we both know, me and the team, what we have to do to make things go forward."
On the subject of being handed a free rein, Raikkonen said: "It's one of the key points. Obviously you want to have a good car, but there are lots of small things that have to be right for yourself.
"They might sound like stupid, small things but I've been long enough in the business to know what I want and if those things aren't right then that decision might be different."
Webber's time spent partnering Vettel has, of course, had its fractious moments, not least the latter's decision to defy team orders and pass the Australian for victory in Malaysia earlier this season.
Raikkonen, however, said that the 25-year-old German would rank fairly high in his list of preferred team-mates.
"I have no problem to race with anybody. I've never been in a position to choose who I drive with, so it hasn't changed anything. But if it happens, it would probably be easier than some of the others," he added.