Fernando Alonso pays tribute to Sebastian Vettel and urges Ferrari to raise their game
Spaniard admits in-form title rival is performing strongly
By James Galloway
Last Updated: 28/06/13 12:31pm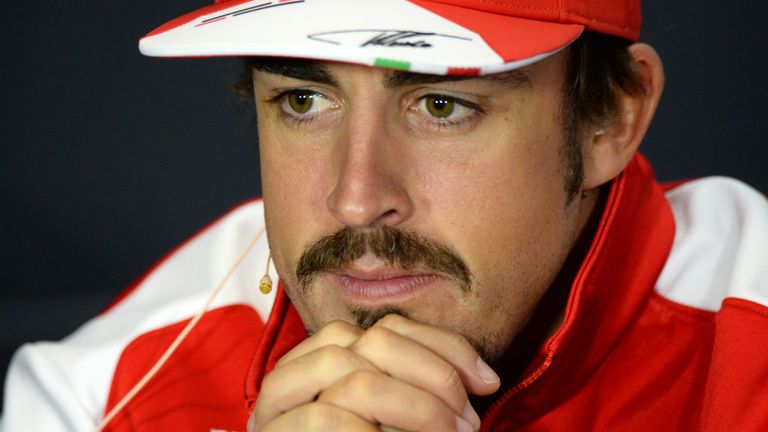 While the Spaniard's second-place finish at the last race in Canada meant he jumped ahead of Kimi Raikkonen into second place in the standings, Vettel's third win of the season ensured that Alonso still lost further ground overall - the gap between the two perennial rival now 36 points.
In addition his three victories, Vettel has yet to finish outside the top four after seven races whereas Alonso season's has already contained one retirement and an additional low-scoring points finish.
Asked about the challenge ahead for Ferrari in the title race, Alonso paid a warm tribute to Vettel's consistency and admitted it was something the chasing pack now had to emulate.
"He's doing a fantastic job, all the races he has been nearly perfect with no down races, always performing well in qualifying and doing very good races," the Ferrari driver said in Thursday's pre-British GP press conference.
"Obviously I had two unlucky situations, one in Malaysia, one in Bahrain. Kimi was leading the championship, or very close, until he had two unlucky situations, one in Monaco and Canada was a little bit of a mixed race for him.
"So we need to keep fighting, pushing and recover now these bad races that we had. Red Bull is performing really well and is improving compared to the first part of the championship so we really need to raise our game to Sebastian because he's doing a fantastic job."
Alonso admitted the fact most teams in general were continuing to struggle to get the best out of Pirelli's tyres every weekend wasn't helping the situation to find some more consistency, but made clear that Ferrari had to start mastering the situation in both qualifying and the races.
"This year we are a little bit dominated by the tyres' performance, or the tyre issues, that we face every weekend. Some weekends some teams are hit, and some weekends the others, but it seems that if you have the weekend that you make the tyre work and last properly throughout the race you have a better chance to win.
"[Irrespective of] the performance of the car in the high-speed corners or the low-speed corners, I think it will be weekends in the next couple of races to make the tyres work in maximum performance in qualifying and in the race.
"Sometimes you hit one of the two and it's not enough so we need to improve in that aspect. The team performance needs to be a little bit better in the tyre preparation, Saturday and Sunday."