Kimi Raikkonen denies that he has agreed to join Red Bull in 2014
Finn remains the favourite to replace Mark Webber next season
By Pete Gill
Last Updated: 08/07/13 3:09pm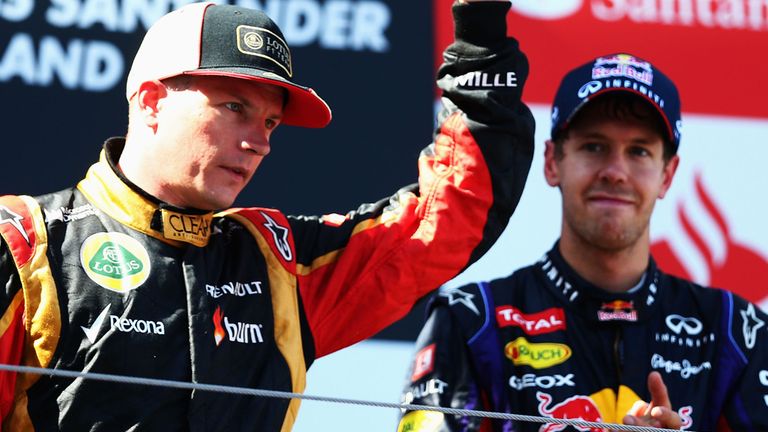 Raikkonen has been installed as the odds-on favourite to drive alongside Vettel next season with Red Bull boss confirming that the 2007 title winner is, along with Toro Rosso duo Jean-Eric Vergne and Daniel Ricciardo, one of three drivers on a short-list to replace the retiring Mark Webber.
Plenty of paddock insiders believe that a deal between Red Bull and Raikkonen has already been finalised - with some reports claiming that Webber opted to jump before he was pushed after learning of the reputed agreement.
But Raikkonen is adamant that not only has a deal not been done but he also remains undecided on whether to leave Lotus for Red Bull.
"I don't know what will happen in the future," Raikkonen assured reporters after Sunday's German GP.
"Things will be decided at some point but until that happens there's nothing to talk about. I would definitely tell if I know something just so that all these follow-up rumours and nonsense stops straight away. But right now, there's absolutely nothing for next year and we will see."
Despite the expectation that Raikkonen will opt to depart Lotus once his contract expires at the end of this season, the Finn continues to give nothing way about his intentions.
"For sure, at some point, once we know we will tell but I don't have any pressure to make any decision right now," he said. "Obviously I try to make the right decision for myself but it depends on many things; next year there are rule changes, everything else, so it can be a right or wrong decision.
"Whatever it will be, I will live with it and I'm fine with it. We will see when it comes."
In an interview with the official Formula 1 website over the weekend, Raikkonen denied that his friendship - which includes regular games of badminton - with Vettel would be a factor in his choice.
"It plays no role in the decision," he said. "The decision has to be made in light of a bigger picture and not on single things. There are so many aspects that have to be considered. But one thing I can say is that right now I don't know myself how the die is cast.
"It is never one thing that makes me make a decision. It's the overall package. As surprising as this might sound, I look at the details!"
And the badminton?
"It is a nice sport for practice. And I have to do something..."