Sebastian Vettel says he doesn't mind whether he partners Raikkonen or Ricciardo in 2014
World Champ returns to action to set fastest time at Young Driver Test
By James Galloway at Silverstone
Last Updated: 22/07/13 11:43am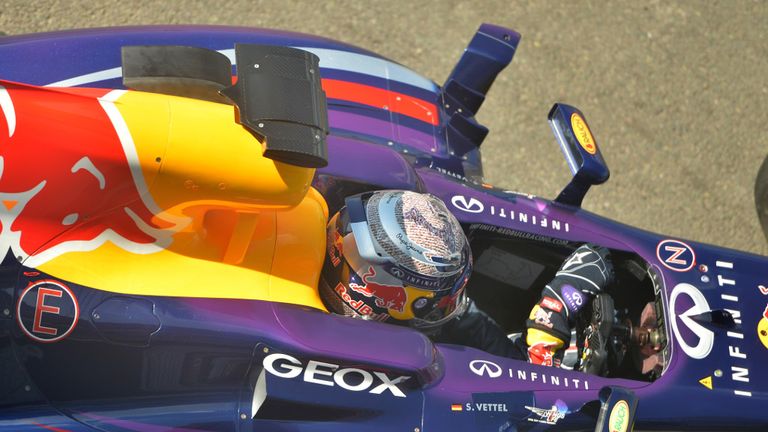 The battle to succeed the retiring Mark Webber alongside the World Champion next season was thrust firmly into the spotlight at this week's Young Driver Test when Ricciardo was handed what effectively amounted to an 'audition' for the coveted 2014 drive on Thursday afternoon.
An unfortunate start aside, when the Australian spun into the gravel, Ricciardo acquitted himself well in his time in the RB9 and, albeit on headline lap times only, the 24-year-old's fastest time in the car was within 0.3s of what Vettel managed in his appearance in the car on Friday afternoon.
With Ricciardo having only two seasons of F1 experience under his belt, and having yet to compete at the front of F1 on a regular basis, it would therefore be the arrival of 2007 World Champion Raikkonen - on paper at least - that would likely pose Vettel more immediate intra-team competition.
But asked if he had a preference for who is next team-mate was, Vettel, who praised Ricciardo's test performance, replied: "No, I don't mind either of them. I get along with both of them.
"I probably know Kimi a little bit better than Daniel but I think he did a good job yesterday. All the drivers that we had in this week, Felix [Da Costa] and also Carlos [Sainz Jr], they did a good job. [They] kept the car on track, it's not an easy track and quite hot as well so I think we can be happy with the results."
The arrival of Raikkonen would certainly serve to create the most high-profile driver line-up in F1, and Vettel is aware the prospect of him going head-to-head with the Finn in the same team would whet the appetite for F1 fans around the world.
However, he insisted that having a team-mate such as Raikkonen wouldn't change anything in terms of trying to win more championships.
"Of course I can understand [the excitement it would create]. But in the end if you want to fight for the championship it doesn't matter, you have to beat everybody, and then it doesn't matter if there's strong drivers in your team or not," he declared.
"It's difficult to judge at this stage what would be best etcetera. It's the team's decision; obviously I can give my opinion - that's it."
Vettel's more immediate focus on Friday at Silverstone had been to test Pirelli's new range of tyres, with revised structures introduced to avoid a repeat of the blow-outs that marred the British GP at the same circuit last month.
The German, a director of the GPDA which threatened to boycott the last race in Germany had there been any more tyre failures, was satisfied with how the tyres held up across the test.
"Not that much of a difference," he said in terms of how the tyres felt. "We had three days, different drivers in all the different cars and no failures - that's good - in conditions that were probably worse than at the grand prix, probably even hotter.
"But no big surprise. Obviously we weren't allowed to rebalance the car and try different things."