Ferrari boss Stefano Domenicali would prefer be to retain Felipe Massa for 2014
But Team Principal stresses Brazilian must deliever required results
By Pete Gill
Last Updated: 30/08/13 9:28am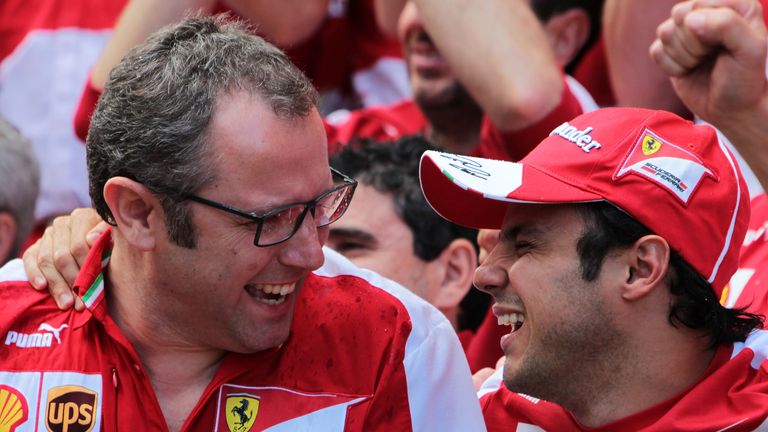 After earning a one-year extension twelve months ago with a sudden upsurge in form, Massa has started the second half of this season once again striving to earn a late reprieve. After a bright start to the campaign, in which he regularly out-qualified team-mate Fernando Alonso, the veteran's results have deteriorated markedly, with a best finish of sixth place since May's Spanish GP.
According to reports prior to last week's Belgian GP, in which the Brazilian was unable to keep pace with Alonso, Ferrari will make a decision on Massa's future imminently with Kimi Raikkonen, Nico Hulkenberg and Paul di Resta all touted as possible replacements.
"My favourite choice would be, of course, to keep Felipe because Felipe is a very good guy - very dedicated to the team - and when you look around there are not so many drivers out there that you swap and they immediately deliver," Domenicali told the official Formula 1 website.
"But, of course, we need good results from Felipe, so that's why we will not rush as we have to make the right decision for the team. As soon as we have made up our minds we will announce it officially to silence the rumours once and for all."
An official announcement confirming Ferrari's 2014 line-up would also serve to quell suggestions that Alonso could depart for Red Bull following reports that the Spaniard's manager held talks with Christian Horner in Budapest. Domenicali is, though, unruffled by the claims.
"This is part of the psychological game that is around - if somebody is following these things. Honestly I don't really care. The fact is that we are totally united to win and we have a contract for a long time - all these stories are simply not relevant," he said.
"I have the privilege of looking at these things in a very disconnected way, so I am laughing and thinking about the poor people who are reading these kinds of things. If they really knew the truth they would never read such absurd things again."
The Ferrari boss has also revealed that the team are preparing to swift focus to 2014 as the sport gears up for a vast array of new rules and regulations next season.
"September is the month where we will basically start to shift, as the 2014 project is very complex," Domenicali disclosed. "At the end of September we will then basically switch everyone, depending, of course, on how the situation is with the championship."
Ferrari currently sit third in the Constructors' Championship, almost one hundred points behind leaders Red Bull, while Alonso slipped 46 points adrift of Sebastian Vettel in the drivers' standings following the German's victory at Spa.