Don't miss this: The highlights of Sky F1's coverage of the Bahrain GP this weekend
Exclusively live coverage of Bahrain Grand Prix to include interviews with Bernie Ecclestone, Lewis Hamilton, Jenson Button & Romain Grosjean
By Sky Sports Online
Last Updated: 04/04/14 4:51pm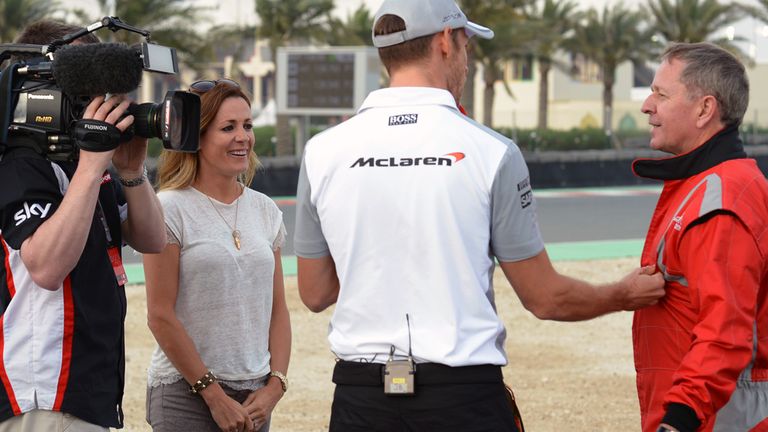 During what's already proved to be a period of unprecedented upheaval for the sport as it grapples with the fall-out from its controversial rules reset, and with drama raging both on and off the track, uncertainty about Ecclestone's own future in the sport has added yet another layer of fascination around the 2014 season.
Even at the age of 83, Bernie remains the central figure in F1's web of intrigue and his no-holds-barred interview with Brundle promises to make compulsory viewing this weekend.
In addition to speaking exclusively to F1's main man off the track, Sky F1 will also be speaking to man-of-the-moment on the track at Sepang last week as Malaysia GP victor Lewis Hamilton discusses his title hopes with Simon Lazenby.
Does Lewis believe this is his best chance to win the title since landing his one - and so far - only World Championship in 2008? You'll just have to tune in to find out!
Hamilton's W05 has so far been the dominant charger of the year and Sky F1 analyst Mark Hughes will be providing an in-depth explanation for why the Mercedes car has been so quick.
Johnny Herbert will be sitting down with Lotus driver Romain Grosjean to discuss his team's difficult start to the year while, in yet another unmissable feature, Jenson Button will be marking his 250th race in F1 by commentating on a different kind of event as the Sky F1 pundits return to the track for a go-kart race of their own!
Sky Sports F1's schedule
Saturday 5th April
11:05am - GP2 Feature Race - Live!
12:45pm - Bahrain GP Practice Three - Live!
3pm - Bahrain GP Qualifying - Live!
6:15pm - Bahrain GP Qualifying - replay.
9pm - Classic F1 - 2010 Bahrain GP.
Sunday 6th April
12:10pm - GP2 Sprint Race - Live!
1:30pm - 1973 Season Review.
2:30pm - The 2014 Bahrain GP - Track Parade - Live!
3pm - The 2014 Bahrain GP - Race - Live! !
6:30pm - The 2014 Bahrain GP - Paddock Live!
8pm - 2014 Bahrain GP - highlights.
9pm - Classic F1 - 1994 Japanese GP.
Sky Sports F1's race-day coverage on Sunday begins at 2.30pm UK Time with the Track Parade, with the build-up to the grand prix starting at 3pm and the lights going green for the main event at 4pm.