Schumacher to leave Mercedes
Lewis Hamilton will replace Michael Schumacher at Mercedes in 2013, with the seven-times World Champion yet to announce his next move.
Last Updated: 28/09/12 7:40pm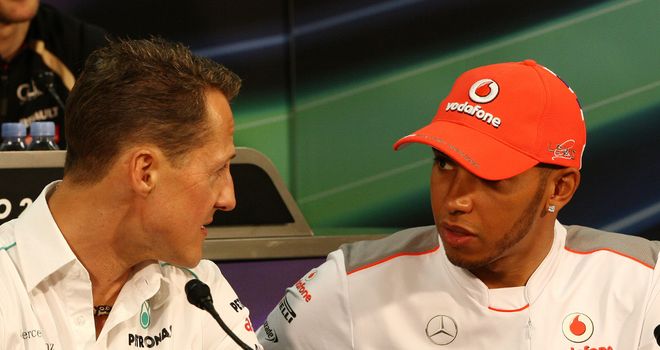 Mercedes have confirmed that Lewis Hamilton will replace Michael Schumacher for the 2013 campaign - but the seven-times World Champion is yet to announce whether he will quit F1 at the end of the season.
With Hamilton signing a three-year contract to partner Nico Rosberg, Schumacher's time at Mercedes is certain to end in November, the 43-year-old having come out of retirement to join them in 2010.
Since then, the seven-times World Champion has finished on the podium just once, at this season's European Grand Prix in Valencia, with Schumacher admitting that his comeback had not gone as well as both he and Mercedes had hoped.
"I have had three nice years with the team which unfortunately did not go as well as we all would have wanted on the sporting side," Schumacher said.
"I wish Lewis well and for the team to achieve the success we worked so hard for in the build-up.
"I would like to thank the team for their trust and all the guys for their unconditional commitment. I will now concentrate on the next races."
Team Principal Ross Brawn, who oversaw Schumacher's title successes in the role of Technical Director at both Benetton and Ferrari said: "On behalf of Mercedes AMG Petronas, I would first of all like to thank Michael Schumacher for the important contribution he has made to the growth of our team over the past three seasons.
"His energy and commitment have never wavered, even when results have not matched our own expectations, and we are determined to finish the 2012 season together on a high. As always, it has been a pleasure to work with Michael."
Schumacher has not yet announced any future plans. There has been speculation that he will be offered an ambassadorial or management role by Mercedes.
Yet Schumacher, who many thought had retired too soon when he departed Ferrari at the end of the 2006 season, may consider that he still has something to offer another Formula 1 team.
If Schumacher does indeed decide to keep racing, a tantalising prospect must be Sauber, who Sergio Perez is leaving to replace Hamilton at McLaren next year.
Schumacher raced for Peter Sauber when the latter ran Mercedes' sportscar team in the early 1990s and is domiciled in Switzerland, where the team are based.
His commercial clout will doubtless also appeal to Sauber, for whom Perez brought lucrative backing from Mexican telecommunications giant Telmex.
Another possibility - admittedly a long-shot, considering that Schumacher parted company with them on less-than amicable terms - might be Ferrari, who have yet to confirm a partner for Fernando Alonso next season.
Mercedes also announced on Friday that three-time World Champion Niki Lauda will join the team as non-executive chairman of the team's board of directors.
Lauda's input comes as part of a notable recruitment drive undertaken by the Brackley-based outfit behind the scenes.
In the last two years Aldo Costa and Bob Bell, former Technical Directors at Ferrari and Renault, have joined Mercedes as Engineering Director and Technical Director respectively.
They join Brawn, Norbert Haug (Vice President, Mercedes-Benz Motorsport), Nick Fry (CEO), Geoff Willis (Technology Director) and Mike Elliott (Head of Aerodynamics).
With Mercedes dragging their heels to sign up to a new Concorde Agreement - the agreement that binds teams to F1 along with the FIA and the commercial rights holder which is due to expire this year - Friday's announcements also signal their long-term commitment to the sport.