Pirelli's Paul Hembery doubts they'll win any 'James Bond prizes' for their 'secret' test
Italian company sheds fresh light on controversial Mercedes run
By Mike Wise
Last Updated: 03/06/13 12:21pm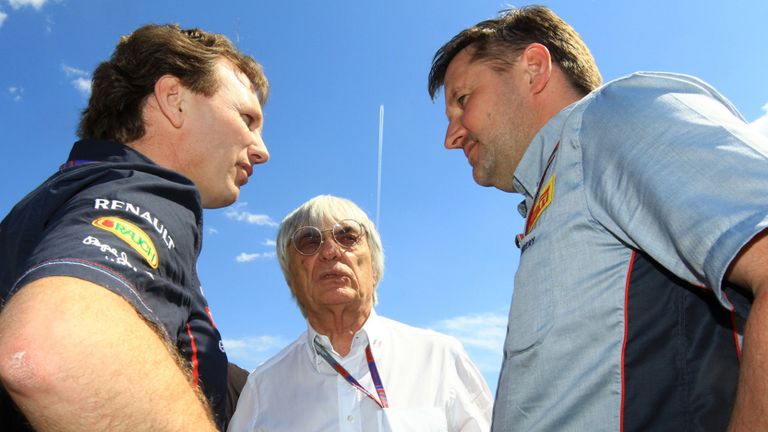 The 1,000km test, which was conducted in Barcelona after the Spanish Grand Prix, caught rivals unawares, with Red Bull and Ferrari launching a protest only after finding out in Monaco last weekend.
Fall-out from the test, which rivals say flouted F1's in-season ban, cast a shadow upon Nico Rosberg's win for Mercedes in the Principality and although the result has been allowed to stand, the FIA could yet impose sanctions.
Pirelli issued a strongly-worded statement on Friday denying that Mercedes had gained any advantage from the test which, it said, largely focused on next year's tyres.
There was some running on the modified tyres Pirelli will test further during practice for next week's Canadian Grand Prix, but Hembery maintained that Mercedes would not have gained an edge.
"The test procedure is determined 100 per cent by Pirelli. It follows a normal tyre testing procedure; it's something we define," he explained.
"Mercedes had no idea what they were testing. They were asked to do certain runs of certain kilometres at our request.
"The tests were performed with tyre specifications that are not used, and will not be used, in the 2013 World Championship.
"We didn't allow Mercedes to make any changes to the car; the car was set up, didn't change and we went through our testing."
The modifications to the 2013 tyre, which Pirelli hopes will finally be introduced at next month's British Grand Prix, are aimed at eliminating the high-speed delaminations that occurred in Bahrain and Spain.
To further ensure that Mercedes were kept in the dark, Hembery said that "even that tyre had a different compound to the one used in the 2013 Championship".
"These tests were performed blind," he stressed. "Mercedes had no idea, and still have no idea, what was being tested. There was no benefit to them; the benefit was to Pirelli and F1 in general."
Although teams were, to say the least, surprised by the test, Pirelli insisted it had acted openly. The Italian company said it had booked and paid to use the Circuit de Catalunya between May 15-17.
"I don't think we're going to win any James Bond prizes because we booked the circuit in our name two days after a Formula 1 race, we turned up in our trucks dressed as Pirelli people with a brightly coloured Mercedes car at a track like Barcelona where, when you hear an F1 car, the fans turn up and take photos," Hembery said.
Yet, according to Hembery, transparency also has its limits. Pirelli is working on a 2014 tyre even though it has yet to sign a new contract to remain F1's sole supplier next season.
Assuming it stays on, Pirelli says it will give teams more information in September - but not before.
"They're private research and development tests for ourselves. At the moment, we don't have a contract with all the teams and you can understand that there are some things that remain confidential," Hembery said.
"In common with most industrial companies, you perform your own research and development in a more reserved manner.
"It's proprietary information to Pirelli. It's not relevant to the teams. As for Mercedes, they merely provided a service for us."
Even so, Pirelli Racing Manager Mario Isola said that some very basic information on the modified 2013 tyre has been distributed.
"We gave them some general indication of the development that was done for the 2013 tyre," he added.
Something that particularly irked Mercedes' rivals at the weekend was that it had involved their current car.
According to Hembery, though, this was a red herring. "We wanted something a little bit more representative because the stresses going into the tyres next year will be very, very great," he said.
"It's been suggested in some quarters that we asked for a 2013 car; that's not true. We asked for a representative car.
"Our understanding is that there was good discussion between Mercedes and the FIA on the subject.
"Whether it's '11, '12 or '13...to be perfectly honest, from a tyremaker's point of view, that's all we need to have."
Pirelli has its own test car, a 2010 Lotus-Renault, but Hembery said it couldn't be used because "it was down in the Philippines for a promo run".
Of greater relevance, however, is that "the Renault is 4s slower than the current cars".
But what of the contention of some of Mercedes' rivals that they weren't asked to test? According to Hembery, memories are short.
"On March 12th last year, we did point out to the teams that there was provision in our FIA contract for us to perform 1,000km of tyre testing," he said.
"The response to that was limited, we have to say."
Pirelli was limited in its own response to the statement issued by the FIA after the Monaco GP, in which the governing body said it wasn't made fully aware of the test nor received assurances that all teams had been given the same opportunity.
Isola merely stated that "we informed the FIA of the fact we had this opportunity to run a 1,000km test and usually we keep them informed on all our testing programme".
For his part, Hembery reiterated that "the teams were informed back in March 2012 that there's an opportunity to do 1,000km testing. From the first line of the FIA press statement, it clearly states that they knew there'd been a request to do a test with Mercedes".
The matter is still outstanding, with the governing body currently deciding whether to refer it to its International Tribunal.
"We've replied to a series of questions. That's in the FIA's hands. We'll wait and see what else they need," Hembery added.
"As we've always done with the FIA, we've provided total assistance and support."