Lewis Hamilton unafraid to partner Sebastian Vettel & reveals Ferrari ambition
"It's always a desire for any driver to drive for Ferrari," says Lewis
By James Galloway
Last Updated: 26/06/13 4:45pm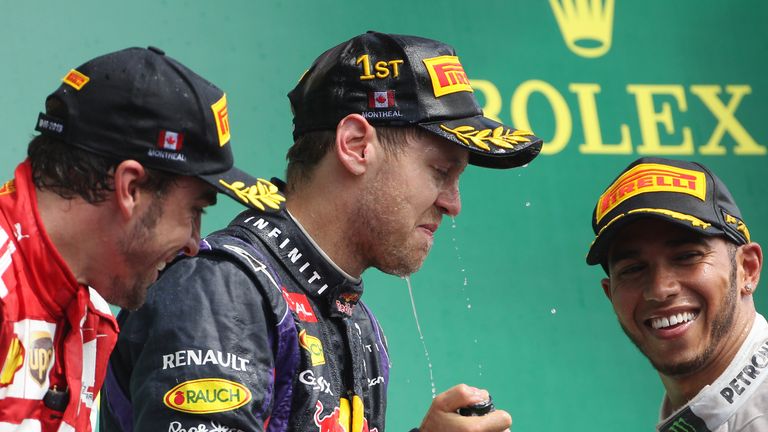 The 2008 World Champion is currently six months into an initial three-year deal at Mercedes having dramatically ended his long association with McLaren at the end of last season.
And while making clear he's enjoying life and his new team, Hamilton has nevertheless speculated about what his longer-term future in Formula 1 might hold when responding to readers' questions in the latest edition of F1 Racing magazine.
Asked if he would ever join Red Bull while triple World Champion Vettel was still there, Hamilton replied: "I would go up against any driver.
"Any time, any place. Any team. Whoever it is, that's not a worry for me, I would have happily been Sebastian's team-mate.
"He has a great car, so it would have been a great experience."
Although Hamilton was only tentatively linked to both Red Bull and Ferrari during his protracted contract saga last summer, a move to the latter was considered all-but out of the question given Fernando Alonso had reputedly vetoed the Scuderia signing his former McLaren team-mate.
Alonso is contracted to Ferrari until the end of 2016 but Hamilton admitted that he was no different to any driver in regards to recognising the appeal of driving for F1's most famous and successful team.
"At the moment I can't see myself anywhere else because I'm really happy where I am," the Briton insisted.
"But what I can say is that throughout my racing career and through karting and everything Ferrari have always been one of the top teams and it's always a desire for any driver to drive for them.
"So anyone who gets that chance, no matter where you are or what car you drive, you look at a Ferrari and think: "That's pretty cool.' But like I said, at the moment I'm really happy where I am and I hope Mercedes keep me for even longer."
However, appearing to underline the notion that his eventual post-Mercedes career direction could take on any number of turns, Hamilton reiterated his admission from last year that he would also never shut the door on a return to McLaren - also insisting that his relationship with his long-term employers hadn't soured.
"Back to McLaren? I could never rule that out," he added.
"That's the team I grew up in and it still has a really good place in my heart. People have tried to build negativity around it when there isn't any. There's a really good vibe between us. So yeah, who knows?"