Exclusive Q&A: Lewis Hamilton feeling confident heading into the second half of the season
Merc driver feels in the best physical shape for many years.
By William Esler
Last Updated: 13/11/13 6:32pm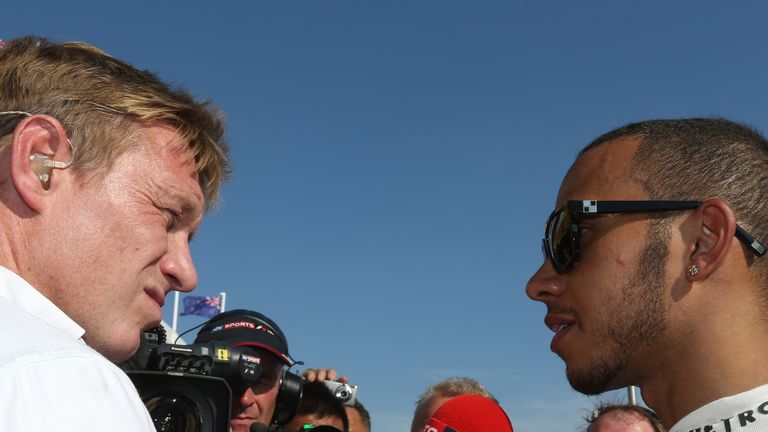 When we spoke to you after your victory in Hungary, you were very emotional. Have you had time during the break to step back, clear your head and get in the right frame of mind?
Lewis Hamilton: "To be honest, once I leave the track I don't ever think about the racing again. So I left and went away and didn't think about the racing at all.
"Obviously the first few days felt really positive that I had that result and sent them team away on a good note. But I didn't go on any internet sites and see what was being written and it is just nice to separate yourself completely and I think it is really positive to keep your mind fresh and step away for a bit and then come back and attack hard."
You say you have been doing a lot of training over the break. What did it involve? Was it just physical or did get a sports psychologist in?
LH: "The training that I was focussing on was assessment and nutrition - when I am travelling around I am a very picky eater so there are times where I just don't eat in the whole day so it was good to be in a place where I was constantly having my meals and getting the runs in consistently.
"Over the period of time I used analysis to see where my strengths and weaknesses are physically - I don't know how it is for the other drivers, but with all the circuits being clockwise, the right-side of my body is stronger than my left. That might be natural because I am right-handed, but it was really good to have a case study of it and understand and work on those elements. I am feeling the best I have for a long, long time."
Let's assess where you are at the moment - where do you stand at the moment - are you and Mercedes in a really good place to strike in the second half of the season?
LH: "Yes, I feel that we certainly are in a strong position, but the fact is Red Bull have had a competitive car for such a long time and are such a fantastic team so they are going to be very difficult to catch.
"But I am very confident in the team of people I have behind me that they won't give up and they will keep pushing and I feel that the team have turned over a new leaf. Even members of the team are saying 'I can't believe we are still developing at this stage of the season, we never have before,' and I just feel that I am part of a new era and energy at the team. I feel mentally and physically fit - fitter than I have for a long, long time so I am excited."
At the start of the year everyone was talking about this being a learning year - how do you think the team have got themselves into this position?
LH: "I think it is through a lot of understanding where they are, understanding the wrong roads they had taken and making some serious changes in the team. There are too many to mention, but that is down to Ross [Brawn] and Toto [Wolff] and Niki [Lauda] all coming together and putting a really strong package together.
"They have always had strong people in the team, but perhaps not in the right positions, but now the pieces of the puzzle are coming together. I didn't come here thinking I would have the best car right away, but it is incredible how things happen. I believe things happen for a reason and I felt the need to move and why the car is as good as it is and I am just going to keep pushing."
Last year you were the centre of attention in would you move or not. This year you are settled, is it nice not to be involved in all the speculation and the questions from the media? What kind of impact does that have?
LH: "I know how much - whether you say it is a distraction or not - it is in your thought process and it does hamper you slightly. So I want every advantage I can get, so it is nice to know that other people are going through that same experience. I am 100%, I wasn't 100% last year, but I am 100% now and I am going to put that into my driving."
Are you taking the rest of the session a race at time or dividing it up into sections where you think might be strong as you look to catch Sebastian Vettel?
LH:b "I have not really thought about it, but just one race at a time. You just have to take it one step at a time, you can't plan too far for the future. I hope we don't have any reliability issues, the guys are working very hard on that. But they are so competitive, Sebastian is driving at his best, but they are beatable."