Testing times for Romain Grosjean as he concedes Kimi Raikkonen has edge on tyres
Frenchman admits team-mate has the edge on front tyres
By James Galloway in Barcelona
Last Updated: 11/05/13 8:00am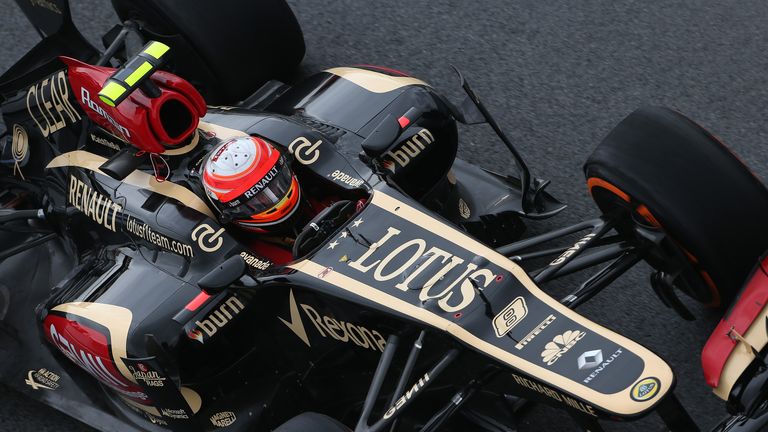 While former World Champion Raikkonen suggested he was again poised to mount a challenge for the top positions this weekend as he finished just over 0.2s slower than pacesetter Sebastian Vettel in fourth place, Grosjean languished down in 18th position at the end of P2 with a fastest time nearly three seconds slower than the sister E21.
Raikkonen, whose first and second place finishes in Melbourne and Bahrain respectively were achieved by making one less visit to the pits than his chief rivals, said he hadn't experienced anything out of the ordinary in regards to tyre wear.
"It's a different place. You cannot compare something we did in Bahrain with something here, it is a completely different story," he said when asked how the tweaked hard compound had performed in practice.
"Every day can be different so there's no point to compare what happened in some races even if you used the same tyre in the other place. Both [compounds were] okay, normal things really with the tyres.
Put to him that other drivers - notably Sebastian Vettel - had flagged up the front-left tyre as being put under a particular strain, the 2007 Champion added: "Maybe it's normal, all the races there is a bit left graining, apart from Bahrain, and it's much less than it was in the winter. So we just have to change the set-ups a little bit to fix it so it's not too bad."
It was a different story for Grosjean, however, whose experiences of more severe graining left him hoping for warmer ambient temperatures come qualifying and the race.
"I hope it will take away some of the problems," he said when asked about the prospect of a hotter weekend.
"It's not easy to drive and you really have to take care of everything, which doesn't make it easy. Normally higher temperature will avoid a little bit of graining and that should be a little bit better for the tyre."
And making the honest contrast with his team-mate, Grosjean admitted: "He's better than me on this area for the front [tyre]. [It's down to] a little bit of driving style, a few little set-ups. We have seen a few things we want to test out and from there we will see."
Grosjean's afternoon travails were further exacerbated by the onset of a cracked exhaust during his medium tyre run, leaving the Frenchman relying on Raikkonen's feedback on some key test parts.
"The first two runs were really bad, I don't know why. Strange," he bemoaned.
"We thought it was the front wing and then we swapped, we went for the medium tyres but couldn't finish the lap because we had an issue with the exhaust. We had to come in and then straight inrp the long runs. So basically you have two items that you want to test and you go into the session and couldn't make them.
"Kimi has tried one of them, it looks quite interesting on the car, and there's another small difference that we had in Bahrain that we are trying to see if we can use. Very, very small things can make a huge difference with those tyres."