Fernando Alonso says Ferrari must play to their strengths if they are to keep in touch with Sebastian Vettel and Red Bull
Long-time leader insists he and Ferrari can keep in touch with Vettel and Red Bull
By Mike Wise in New Delhi
Last Updated: 26/10/12 5:07am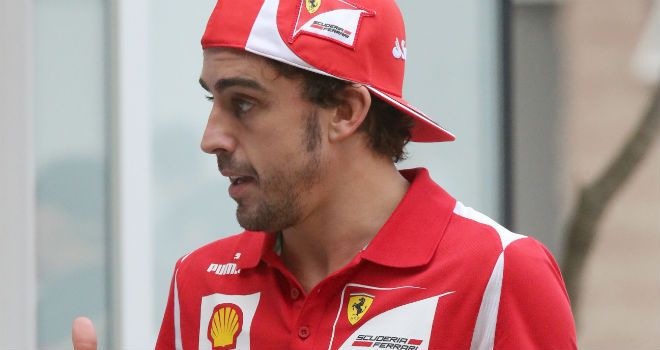 The World Championship appeared to take an ominous twist in Korea two weeks ago, when Vettel claimed his third straight victory. That enabled him to open up a six-point lead in the drivers' standings over Alonso, who had previously led since his win at Valencia in June.
Vettel's charge has come in tandem with a step forward in the performance of Red Bull's RB8, especially during qualifying.
Alonso has long sung the praises of Ferrari's own advantages, in particular their car's stronger performances in races, as well as the team's strategic nous and their smart work in the pits.
Although the Spaniard remains hopeful the Scuderia can find a boost in single lap performance to match Red Bull over the remaining four races, he nevertheless reckons the other areas can at least keep them in the hunt.
"It will be a battle of packages. One will have its own strong points, and their weak points," Alonso said at the Buddh International Circuit on Thursday.
"At the moment we think we saw at the last race that Red Bull is faster, especially on Saturday. This is the point that they will surely try to use, and we will try to use our strong points.
"There's four races to go and we have nearly the same points as Vettel, let's say, and we have all the possibilities open for the Championship."
Alonso insisted that Ferrari would have taken their current position given the tough start to the season they had with their mishandling F2012 car.
"If they say this to us in February, to arrive with four races to the end the possibilities are the same as Vettel, we will sign," he said.
"If you tell us in July, we will sign. If you tell us in August or September, we will sign. We are in the situation we wanted: to fight for the World Championship at the end.
"It's true that in the races Red Bull is very strong, very quick. But we've seen all year ups and down for everybody.
"They seem to be quite up and we need improve our situation, our level of competitiveness."
Ferrari are expected to introduce upgrades in both India and Abu Dhabi in what is surely a final roll of the dice if they are to close the gap in terms of ultimate performance.
Yet despite Red Bull having teed themselves up for their current domination with front-row lock-outs in both Japan and Korea, Alonso remains convinced that starting in front is not necessarily the be-all-and-end-all.
"It's just a matter of pushing to the limits to develop the cars, the strategies, the approach for weekends," he added.
"It's not different to what we've been doing so far this year. The teams have been up and down in terms of performance, the drivers as well - some races they do good things and at others they make mistakes.
"We were leading the Championship until Korea thanks to our consistency and we've avoided many mistakes.
"I think so far we've been doing 16 perfect races and we need to do just another four. If we do another four perfect races, we will be very close to winning the Championship."
With Ferrari set to introduce upgrades in both India and at next week's Abu Dhabi Grand Prix, Sky Sports F1's Johnny Herbert wondered whether the correlation issues they have experienced between wind tunnel and track might have been fixed in timely fashion.
"It's totally about development. We know it's fundamental, but Ferrari haven't really shown raw pace; they've just seemed to get the best out of the car, strategy and everything else," he said.
"We'll have to wait and see whether the figures they get from their wind tunnel will correspond to when they get it on the car. They're talking about maybe understanding a bit more of that correlation and maybe we'll see them do a step up for the first time.
"Wouldn't it be the right time for them to do that?"