Lewis Hamilton says Fernando Alonso has driven better than anyone else in 2012
Briton also praises "genius" Newey after Vettel stretches lead
Last Updated: 29/10/12 2:28pm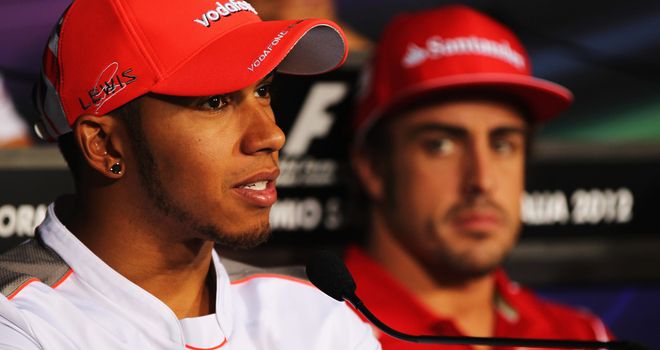 While Hamilton saw his very faint title hopes wiped out in India - something the McLaren driver admitted he was "devastated" about - Alonso kept in touch with the in-form Sebastian Vettel at the top of the standings with a stirring drive to second place.
Alonso's performance has since been widely lauded, including by Sky Sports F1's pundits, and Hamilton has also joined in with the praise.
The Briton has previously indicated he feels Alonso is the driver who most deserves the title this year, and while slightly more diplomatic in his answer to the same question after Sunday's race at Buddh, the Briton again couldn't hide his admiration for his former McLaren team-mate's performances in 2012.
"It's inappropriate for me to say who is the more deserving," he was quoted as saying by the Guardian.
"I am a fan of Fernando's - I was a fan even before I got into Formula 1 - and I think this year he has driven so well. More so than anyone else.
"Sebastian has stepped up a lot at the end of the year with the improvements on his car. But Fernando is still pushing. Today he just drove phenomenally well and he's just holding on, still.
"For me, in my eyes, he really is a three or four times world champion."
Although he has been repeated in his public lauding of Alonso this season, Hamilton has been cooler in his praise towards Vettel, who is on course to become a triple world champion at the age of just 25.
Indeed, just days after suggesting the German had been "lucky" to continue having such a competitive car in the years following his maiden title win, he has hailed the man behind the Red Bull creations, Adrian Newey, a "genius" in wake of the team's four straight victories.
"Seeing Sebastian dominate the last few races doesn't come as a surprise because the Red Bull has been dominant for the past few years," The Sun quoted Hamilton as saying.
"They seem to have a great capacity to improve the car. Adrian is just a genius. I can't even imagine what he's doing. He is a one-off.
"I've seen their speed - there was no way I could compete with that. Even if I drive at 200 per cent and crash, I can't match it."