Luca Di Montezemolo has told the Ferrari team to match the performance of Fernando Alonso
Ferrari president Luca Di Montezemolo has urged the team to push on and follow the lead of Fernando Alonso in India.
Last Updated: 30/10/12 12:30pm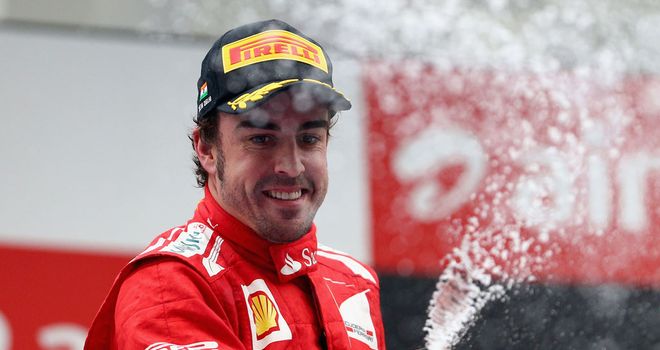 The Spaniard fought his way through from fifth on the grid at the Buddh International Circuit to claim an impressive second and limit the damage of a fourth straight win for Sebastian Vettel.
Alonso now heads to Abu Dhabi this weekend with just a 13-point gap to championship leader Vettel.
But Di Montezemolo says the Ferrari team must match the efforts of their driver and provide him with a car that can challenge the Red Bull of Vettel, who will become the first driver to win five successive races since 2004 if he triumphs at the Yas Marina Circuit.
Di Montezemolo said: "Alonso was exceptional in India. Drivers and team have never been more united to give 120 per cent.
"We're more united than ever, and the team is working on further improvements with the last three races in sight.
"We're ready to give it 120 per cent, just like Alonso. We'll fight for the championship to the last kilometre. I'm very confident."
Alonso issued his own rallying call to the team following the race at the Buddh International Circuit having seen Sebastian Vettel extend his Championship advantage.
"We can fight the Red Bulls, but at the moment, we still don't have a car capable of winning. Once again this year we have seen that, in the race, the situation is much better than in qualifying. A great start, a great first lap, a good top speed and the right tyre management produced, along with me driving at 120% for each of the sixty race laps, got me second place.
"We did what we could, as at every race: if, come the end of the championship we will have won, then no one will be able to say it was down to mistakes from the others, but because we always did the maximum.
"We will already have some updates in Abu Dhabi: let's hope we can make a step forward because it will be important to start making up the points gap there already. There are 75 points up for grabs which is a lot. I am still optimistic even if we are all aware that we have to improve our performance, especially on Saturday."