Fernando Alonso doesn't expect Ferrari to match Red Bull's performance this weekend
Spaniard also denies rift with technical chief Pat Fry
By Mike Wise at Yas Marina Circuit
Last Updated: 01/11/12 10:05pm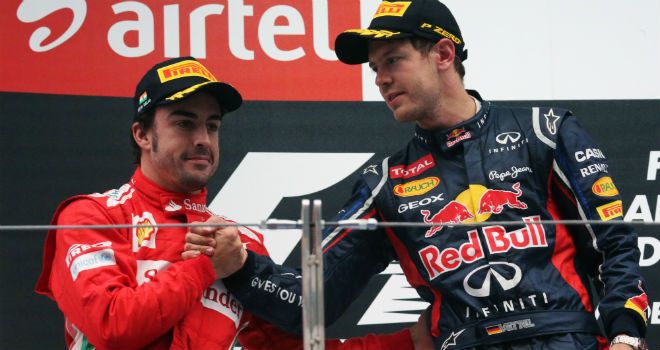 Stories surfaced earlier this week that Alonso had been angered by Fry's assertion that he could have qualified higher up the grid than fifth at the Buddh International Circuit.
"It was a very nice intention from the Italian media. It was quite creative to be honest," Alonso told reporters in the Abu Dhabi paddock when quizzed about the reports.
"I think now or later I will speak with him to understand a little bit better how it became this imagination.
"(It's) frustrating, we know. And it's a fact that we are slower than Red Bull. We all agree on this."
Having fallen thirteen points adrift of Sebastian Vettel in the standings, Alonso knows all too well that the Scuderia must try and respond as soon as possible. Yet even though Ferrari will debut more new parts on their F2012 this weekend, the Spaniard has also conceded he does not expect to take a major step forward immediately.
"There are some new parts coming that we well have to check tomorrow," he said on Thursday. "We don't think that we will close the gap completely to Red Bull from India and five days later in Abu Dhabi to be competing with them with the same performance, there is not any magic button in Formula 1. It will not change completely the car from black to white.
"But we try to get closer and put some more pressure on. I think they have had a very easy four races so far, so they have a lot of margin and they can do little mistakes with not any penalty."
Alonso cited the KERS problem Mark Webber experienced in India - which allowed the Spaniard to take second place - as an example of the sort of fallibility they must seek to exploit.
"We want to be so close to them to take opportunity of everything that they don't do perfect. So we need to find perfection this weekend, or these next three weekends, and be very close to them to attack in the races," he said.
"I think things go up and down for everybody. There are four consecutive ups for Red Bull, so we think they will go down before later.
"We know that Red Bull sometimes is a little bit more fragile because we saw in the last race (that) Webber lost KERS.
"We need to push them. We need to be at the limit all the race through because if they have easy races...for example, in India if the KERS fails on Vettel's car nobody would notice because he's 10 seconds in front.
"We cannot do another race with him 10 seconds in front. We need to be right there."