Happy Fernando Alonso insists he will finish his Formula 1 career at Ferrari
Spaniard also insists team were right not to pit him in Malaysia
By Pete Gill
Last Updated: 11/04/13 11:26am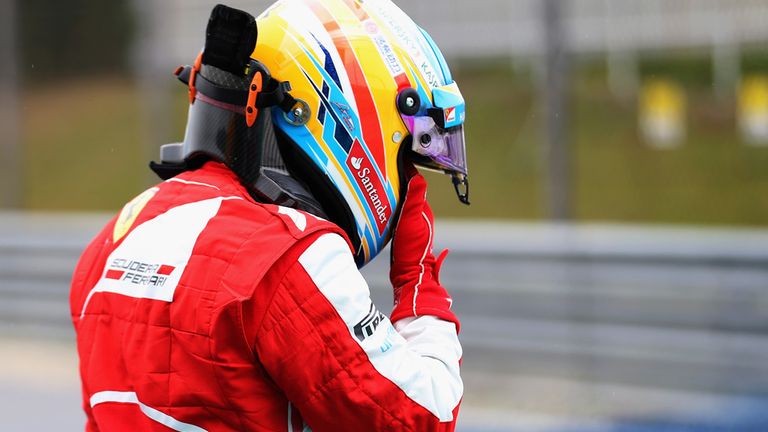 2013 already marks Alonso's fourth season at Ferrari with Scuderia president Luca Montezemolo recently confirming the Spaniard's current multi-year contract "runs until the end of 2015".
Having previously driven for Minardi, McLaren and, in two different spells, Renault, Alonso is now certain that Ferrari will be his fourth and final team in F1.
"Yes, that's what I'm going to do," Fernando answered when asked 'Would you like to end your career at Ferrari?' during a Twitter Q&A on Ferrari's website. "It's the best team in the world, there's nothing above Ferrari."
Alonso has also stood by the team's refusal to order him into the pits for emergency repairs at the end of the first lap of the Malaysian GP by insisting
the decision was a gamble worth taking.
Having been badly damaged after hitting the rear of Sebastian Vettel's Red Bull at the second corner, Alonso's car only travelled a further few hundred yards after he passed the pits without stopping when the front-wing detached itself and the Spaniard was sent hurtling into a gravel trap.
But despite his early exit from the race, Alonso maintains staying out on track was the right strategic call.
"Once you've seen the result, in hindsight, it's easy to say it would've been better to come in for a pit-stop. But it's a decision that has to be made in a matter of seconds, during which we thought that I could hold on for another lap to make the most of the pit-stop and also switch to dry tyres," explained Fernando.
"In any case, the race simulations state that if I would have stopped to change the nose, I would have finished ninth or tenth, so we didn't lose anything. The problem wasn't not coming in; the damage was done in the collision and it's something that we will try to avoid in the future."
Asked what he was thinking as his rudderless F138 travelled at an estimated 300kph along the backstraight with the car's nose lodged underneath the bodywork, Alonso replied: "I was thinking about not crashing into Webber. My front tyres weren't in contact with the ground, I was going at 280 km/h and was running the risk of wiping Mark out, which would have been very dangerous. Luckily the car went straight on."