Red Bull flying out 'new car'
Red Bull are flying out a new chassis for the final two days of testing in Barcelona armed with a series of upgraded parts.
Last Updated: 03/03/12 8:56am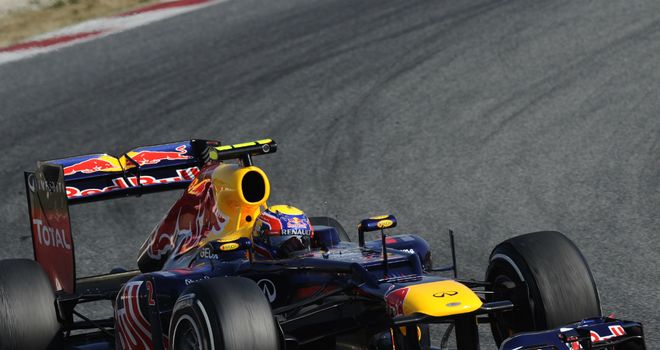 Red Bull are flying out a new chassis for the final two days in Barcelona armed with a series of high-profile and critical upgrades as the testing season goes into dramatic overdrive.
Sky Sports F1 understands that the World Champion's aggressive new package will include a new rear wing, a new front wing and a heavily-revised exhaust.
The revisions are so extensive that the team have had to bolt them onto a new chassis after round-the-clock work at their Milton Keynes HQ.
Ted Kravitz told Sky Sports News: "It's not only parts, it's a whole new car that's being flown out from the Red Bull factory in Milton Keynes.
"So for all these mechanics in this [Red Bull] garage that's the end of work with this particular chassis. This will be chassis number one and rather than fit all the new parts to chassis number two tonight, which would involve a lot more work for these guys, they've decided to fly out the new car.
"Now that's needed agreement from some of the other teams, but what it's going to mean is we're expecting to see a significantly different car when it rolls out at 9 o'clock. So this test is about to to get much more interesting."
Along with the arrival of a new chassis for Saturday morning, Team Principal Christian Horner and Chief Designer Adrian Newey, conspicuous by their absence at the Circuit de Catalunya on the opening two days of the third-and-final winter, are also flying out from England.
"It seems like they've pressed the button after Jerez," Ted added after learning of Red Bull's plans.
With McLaren also planning to bolt on their Melbourne specifications onto the MP4-27 on Saturday, it means that testing for the start of the new season has effectively been condensed down to just two days for both Red Bull and McLaren and explains why both teams have put their drivers - Jenson Button and Lewis Hamilton for the latter, Sebastian Vettel and Mark Webber for the former - on rotation over the weekend.
Ted added: "Ominously for everybody else, Red Bull are bringing more performance to this car which is already, we think over the long runs, the fastest here in testing here in Barcelona...
"It's an ominous sign for McLaren who are just adding piece by piece to their car here at Barcelona.
"I think what we can expect to see is maybe some of these improvements that come to the Red Bull, they'll start bringing much better lap times and that will be a shame as far as McLaren are concerned because they've been working very slowly on these upgrades that they've got for Barcelona.
"They'll bring a new front wing, a new rear wing and we'll really see then where everybody stands. Ferrari as well have been bringing more performance to their car - they tested a new front wing on their last run this afternoon. But they've already brought new exhausts.
"So for Ferrari to be bringing a new exhaust layout at this point with only two testing days to go, is a little bit late in the game. So I think when we get to Australia, we will see Red Bull possibly first and McLaren probably second.
"I think Lotus are looking like they're the third-fastest team at the moment, then Mercedes, and then potentially Ferrari only the fifth fastest as we go into Melbourne."