Mark Webber says he has never been on Helmut Marko's 'agenda' at Red Bull
Red Bull advisor had claimed Webber couldn't sustain a title challenge
By James Galloway
Last Updated: 30/01/13 3:55pm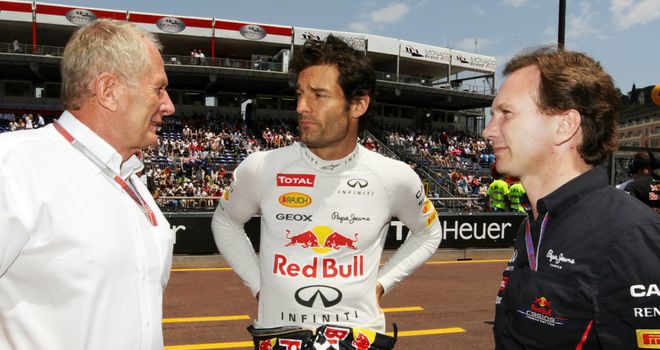 The outspoken Austrian made the headlines earlier this month with comments to the energy drinks company's own Red Bulletin magazine in which he reproached long-time Red Bull driver Webber's ability to sustain a season-long title challenge.
Marko claimed Webber "can't maintain this form throughout the year" and "falls relatively easily into a downward spiral" when things start to go wrong in the closing stages of a season, like in 2012.
The pair have had a frosty public relationship in the past with Marko viewed as being close to Webber's triple World Championship-winning team-mate Sebastian Vettel having overseen the German's rise through the firm's junior driver programme.
In a pre-season Q&A on his own website, Webber has now responded to Marko's claims, saying: "Look, everyone at this level has their own agendas and it's been evident for a long time now that I've never been a part of Marko's."
Despite his apparent differences with Marko, the 36-year-old begins his seventh year at Red Bull in 2013 and says he is expecting "another exciting and challenging season ahead".
In addition to working with a new race engineer, in the shape of Simon Rennie following the departure of Ciaron Pilbeam to Lotus, Webber also confirmed his training for the new season had been boosted by finally having the final piece of metal inserted into his leg following his mountain bike accident back in 2008 removed.
"I had the final procedure on my right leg at the start of December to remove the remaining piece of metalwork, a 40cm titanium rod," he explained.
"The surgery went very smoothly and my recovery was exceptional. I had a few weeks off from my normal training schedule but I was able to ease myself back into it by the first week of January and now I'm back into it properly.
"I didn't really know what to expect from having it removed, apart from my own peace of mind, but I'm very happy that some of the niggles and pain I've sometimes experienced with my training over the past three years already seem to be a thing of the past."