Sky Sports F1 Exclusive: Christian Horner Q&A
Rachel Brookes catches up with the Red Bull Team Principal
By William Esler
Last Updated: 26/07/13 5:06pm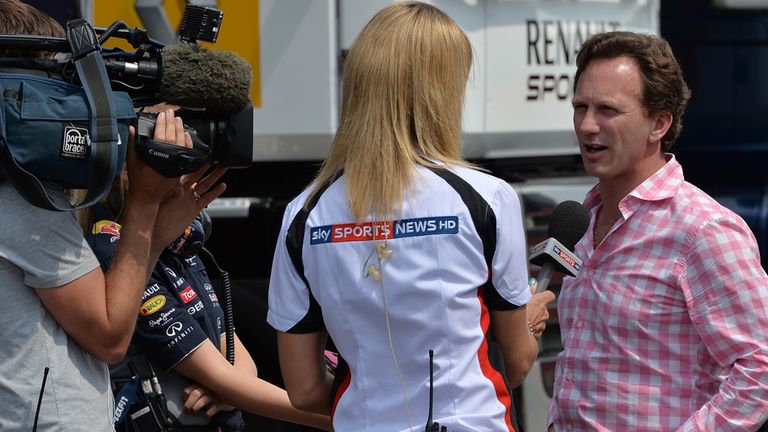 Rachel Brookes: What kind of concerns do the teams have about the heat this weekend? Is it just the tyres?
Christian Horner: "Obviously we have these sorts of hot races throughout the year whether it is Malaysia or Singapore or India. This is quite a tight, twisty track so obviously there is a lot of energy going into the tyre and the engine cooling as well is pretty critical."
RB: Talking of the tyres - we have the new tyres here this weekend. What have you made of them - you did top both sessions?
CH: "It has been a good day, we have learnt a lot about the tyres here - there is quite a big time difference between the soft tyre and the hard tyre so that is going to make qualifying interesting tomorrow because there is well over a second difference between the two tyres which will make strategy for the race interesting, but it is the same for everyone."
RB: Is it a case of get the softs out of the way as quickly as possible then do you think?
CH: "For sure it is the quicker qualifying tyre and then that commits you to starting on them in the race if you are in the top ten. So I think strategically it is going to be very interesting to see what strategies different teams adopt."
RB: Do you think with the pit-lane speed reduced and it adding up to four seconds a stop that some people will look at that?
CH: "I think the effect will be less here than at some other tracks, but for sure it is an effect and quite often these strategy decisions are made on the slightest of margins and increasing the duration of the pit-lane by four seconds is for sure going to have an impact."
RB: Both the Mercedes drivers think you are a shoe-in for pole - do you think this is one you can get pole at? It has been between the two teams all season so far.
CH: "It would be great to start the race on the frontrow of the grid here and particularly from pole, but I don't think we are shoe-ins for anything as the Mercedes are tremendously quick over one-lap this year. But if we can get on the frontrow it would be great."
RB: Sebastian Vettel is re-writing the history books and winning at tracks where he has never won before - he only has here and Austin left. Can he win here?
CH: "He is in great shape, but some other drivers are going to try and stop him from doing that. It would be great to sign off going into the summer break with a good result here and he and Mark [Webber] are very focussed on doing that."
RB: You mention the summer break - is this Kimi Raikkonen and Daniel Ricciardo's last chance to stake a claim for the Red Bull seat next year?
CH: "Probably in reality we have all the information we need and we will just take the summer break to have a good think about it and when we come back after the summer break I am sure we will firm something up as we head to the close of the European season."
RB: How close are you to firming it up? If you have all the data is it financial discussions with the drivers?
CH: "At the end of the day you want to make sure you make the right decision and you have to take everything into account so we just have to wait and see."