Red Bull boss Christian Horner coy over shock Fernando Alonso 2014 speculation
Rumour mill goes into overdrive after Alonso manager meets Horner
By Pete Gill
Last Updated: 30/07/13 9:23am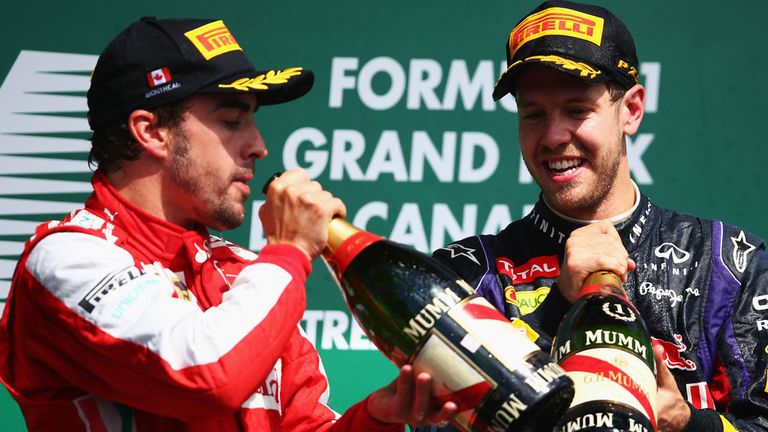 Horner, who has previously indicated that either Daniel Ricciardo or Kimi Raikkonen would succeed Webber, was spotted in talks with Alonso's agent Luis Garcia Abad at the Hungaroring this weekend. Although Abad also represents Carlos Sainz Jnr, who impressed at the recent Young Driver Test when driving both a Red Bull and Toro Rosso, paddock gossipers claim that Alonso's future was also discussed by the two men.
Pressed by reporters to confirm or deny as much, Horner did little to douse the flames.
"We are in a fortunate position where there is quite a lot of interest in the seat for next year. We had a look at Daniel [Ricciardo] at the [Silverstone] test last week, so we will take a little time over the summer to reflect on the options and look to make the right decision with the right pairing," the Red Bull boss chief responded.
But was that a denial? "Any conversations with any driver remain confidential. Of course, there has been quite a few drivers expressing interest in the seat," he added.
"Is [Alonso] available? You ask him. We are going to take a bit of time to make the right decision. We have some great options and we don't need to be in a rush. There has not been any pressure that we must take a junior driver, it is a matter of fielding the best team. Of course, the junior drivers are under consideration but there is no pre-requisite it has to be a junior driver for next season. We want to put the strongest drivers in the car that we can."
The prospect of Alonso partnering Sebastian Vettel is mouthwatering, but would Red Bull really be inclined to pair two of F1 leading stars in the same orbit?
"It would be interesting," mused Horner. "At the end of the day we have to do what is right for the team and the pairing that we want to put together next year has to be right for the team.
"Last week there was speculation about Kimi and this week there is speculation about Fernando but we have to make sure nothing wavers in our minds about putting together the fastest drivers we can find who will work collectively well together and achieve the best results for the team."
No sooner had Horner's words left his lips than speculation abounded that the Red Bull boss was simply being mischievous with the intent of destabilising Ferrari - although given that the Scuderia lost further ground at the Hungaroring, it is a moot point just how much of a threat they currently pose Red Bull.
Ferrari boss Stefano Domenicali in any case was swift to remind his interrogators that Alonso is tied to long-term contract with the Scuderia, which officially runs to the end of 2016.
Asked if he was concerned he could lose his star driver to Red Bull, Domeniciali replied: "No, I mean first of all we have a contract with him and for sure everyone knows about it.
"Fernando is an asset for the team and we need him to work very closely with everyone above all in this difficult moment of the season."
Nonetheless, it was perhaps telling that the Spaniard himself declined to refute suggestions he would be willing to leave the team for Red Bull.
"I'm very happy [at Ferrari] but we need to improve the car if we want to have a chance of winning the World Championship," Alonso replied.
The ambiguity of that reply - in old-fashioned speak, a non-denial denial - could of course be interpreted as a ploy to galvanise his flagging team ahead of the summer break, but rumours of Alonso's discontent have spread in recent weeks and stranger things have happened in F1. After all, who predicted Lewis Hamilton would depart for Mercedes this time last year?