Christian Horner coy over Red Bull 2014 options despite words from Raikkonen camp
Team boss also now not expecting decision until Monza
By James Galloway at Spa
Last Updated: 23/08/13 9:23am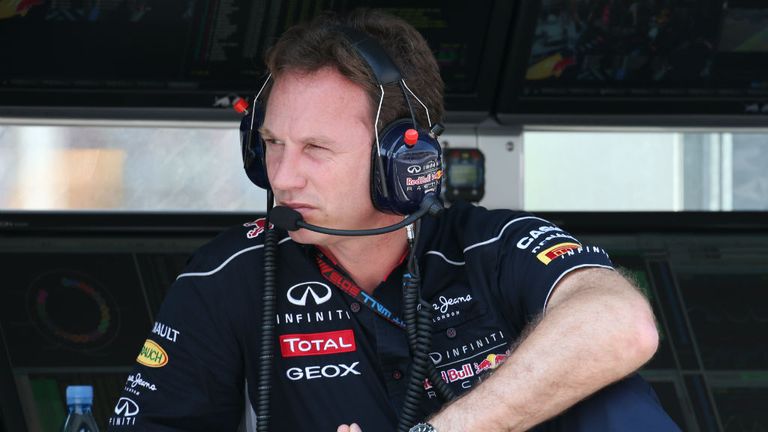 Reports in Germany over the weekend had suggested that Red Bull were poised to confirm Toro Rosso driver Daniel Ricciardo as compatriot Mark Webber's successor for 2014 ahead of this weekend's Belgian GP - a prospect that seemed far more likely after the manager of Raikkonen, the only other driver Horner previously named as being in contention, revealed that talks between his client and the World Champions had broken down.
However, with no announcement over the coveted seat forthcoming on Thursday's media day at Spa and Ricciardo revealing to reporters that he had heard no news himself yet, Horner added further fuel to the speculation by revealing that in his and the team's eyes nobody was actually out of contention yet.
Asked whether Raikkonen was now definitely off the shortlist, the Red Bull chief replied: "Has he signed for anyone else? It's up to him.
"Kimi's manager ruled him out I think. I've only seen what you've seen."
Indeed, far from suggesting that an announcement regarding the identity of Sebastian Vettel's next team-mate was imminent this weekend, Horner strongly hinted that drivers outside of Ricciardo and Raikkonen were also now being considered.
He also indicated that an announcement was now not likely until the time of the Italian GP in two weeks' time.
"You have to make sure you consider all the options and there's more options than you could possibly think," he said.
"There's been quite a lot of interest. So we just take the time. It's not going to be much longer I'd have thought. I'd have thought by Monza or shortly after Monza we should be clear."
With Fernando Alonso's name even having been thrown into the ring at the last race prior to the summer break in Hungary, Red Bull's decision over the second seat for 2014 appears to have become more complex than it had first appeared several weeks ago.
Indeed, Horner made clear that Red Bull wouldn't be rushed into making a final judgement.
"I think the problem is you get to this point of the year and there's so many rumours, hearsay, this, that and the other. I saw he [Raikkonen] was going to Ferrari a couple of days ago," he said.
"There is no transfer window in Formula 1. We are not obliged to make a decision until we choose to. As I say, we want to make sure that we make the right decision and we will take the time that we feel appropriate to make that decision."
While categorically debunking a rumour that Vettel had vetoed an approach for fellow World Champion Raikkonen - "absolute rubbish, he doesn't have a right of veto" - Horner also denied there was a clear difference of opinion within Red Bull's hierarchy over the search for a new driver amid suggestions that owner Dietrich Mateschitz favoured promoting Ricciardo.
"Ultimately Dietrich has to sign off on any decision of that magnitude but he of course will listen to the recommendations that Adrian [Newey] and I put forward," Horner added.