Fernando Alonso admits 'we need to be lucky' as Vettel wins in damage-limitation mode
Spaniard says Ferrari must be "realistic" about title chances as gap widens once again
By Pete Gill
Last Updated: 09/09/13 12:57pm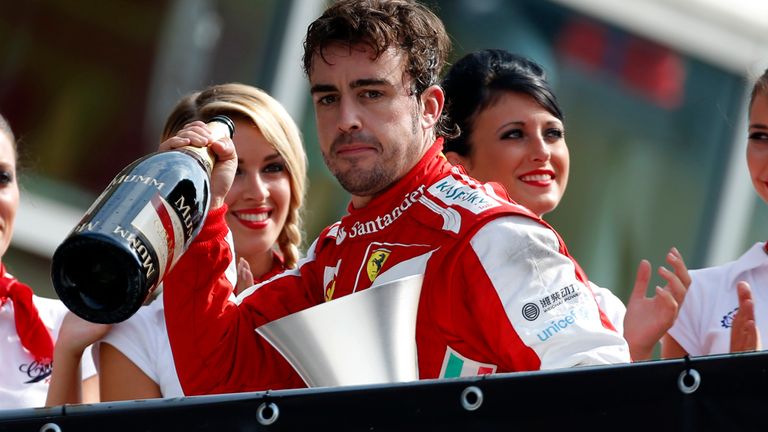 On a weekend when Adrian Newey believed Red Bull were in "damage-limitation mode" and Alonso believed he extracted "the maximum" from his Ferrari F138, the only damage in evidence was to the Spaniard's ambition of catching Vettel as the World Champion cruised to a resounding victory.
Having admitted on Thursday that his title aspirations would be all-but over if Vettel wasn't beaten at Monza, even Alonso's famed defiance was muted when he addressed the press corps on Sunday night after crossing the line ten seconds behind the race victor.
"I think we need to be realistic about the Championship now there's a very big gap. We don't have enough races and probably we don't have the speed right now to win some consecutive races and hope to reduce the gap just by pace," the 32-year-old acknowledged.
"We need to be lucky and we need to have some DNFs from Sebastian or something to win the Championship."
As if the defeat on home soil wasn't sufficiently galling, Vettel's latest victory occurred at a circuit which wasn't expected to suit his Red Bull and on a weekend when Alonso reckoned Ferrari had run at their full potential throughout. If they couldn't beat Red Bull in these circumstances, then...
"I think this weekend we took the maximum from the car," the Spaniard confirmed. "We did the maximum and nearly a perfect weekend. We didn't close the gap in the Championship, which is obviously the goal every weekend but when Sebastian and Red Bull dominate Friday, Saturday and Sunday and they win the race we have to congratulate them. They were the best all through the weekend."
To rub salt into the wounds of defeat, Vettel later revealed that the team's technical genius, Adrian Newey, had been convinced the RB9 would struggle on the power-hungry straights of Monza.
"I think he was as surprised as we were," said Vettel. "Just on the way up to the podium, he said, 'I thought that it was going to be damage limitation this weekend'. I said to him, 'Well, if damage limitation is like that, I want to have a lot of damage for the rest of the season'."
Given that Vettel won the next four races on the current calendar 12 months ago, those words will be read with an understandable sense of dread by the rest of the field.