Williams admits Newey mistake
Sir Frank Williams has admitted that he made a big mistake in allowing Adrian Newey to leave his team.
Last Updated: 27/02/12 11:22am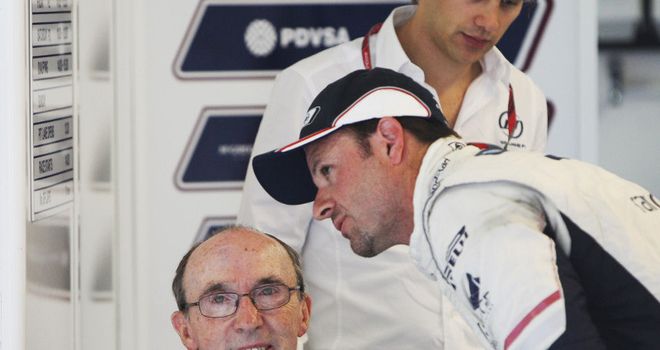 Sir Frank Williams has admitted that he made a big mistake in letting Adrian Newey leave his team after he went on to become the most successful designer in Formula 1 history.
Williams and Newey parted company in 1997 when a disagreement soured their relationship and while Williams have largely struggled since, Newey has flourished.
After helping the likes of Damon Hill, Nigel Mansell, Alain Prost and Jacques Villeneuve win drivers' titles at Williams, Newey has gone on to design the dominant McLaren and Red Bull challengers.
After watching Newey now mastermind Sebastian Vettel's storming Red Bull machine, Williams admits that letting him go was a big mistake.
"He wanted some shares that I didn't want to give to him at the time," Williams told F1 Racing magazine. "[That] was arguably, with hindsight, a mistake. Adrian is quite a remarkable individual."
Performance
Williams had their worst ever championship finish in 2011, and the boss launched a damning indictment of last year's FW33 car as they look to improve vastly this season.
Bruno Senna has come in to replace Rubens Barrichello behind the wheel, but behind the scenes the changes are even more significant with three new members of the technical team.
Mike Coughlan comes in as technical director after Patrick Head retired and Sam Michael moved to McLaren, while Mark Gillan has come in as new chief operations engineer and Jason Somerville head of aerodynamics.
"I'm not an engineer but I've seen lots of good cars and lots of bad cars - and ours wasn't quick enough," said Williams.
"It was deficient in most of the areas that matter, but we were completely lacking in the most important one of all, which is aero. And probably a bit of horsepower. It just wasn't a quick car.
"The Renault engine gives us hope. We have three new technical people - one is our technical director, one is chief of aero and one is running the cars. They have different backgrounds coming from three different teams."
Williams is hopeful of improving hugely on last year's lowly five-point haul, but admitted that there is still a huge obstacle to success - the man he let go 15 years ago.
"There's still a problem, it's called Adrian Newey," Williams admitted. "There's only one of him."