Caterham Q&A
Team Principal Cyril Abiteboul spoke to Sky Sports in Jerez about their new driver line-up, their old driver line-up, as well as their more realistic aspirations for the 2013 season and beyond.
By Mike Wise
Last Updated: 12/04/13 7:51am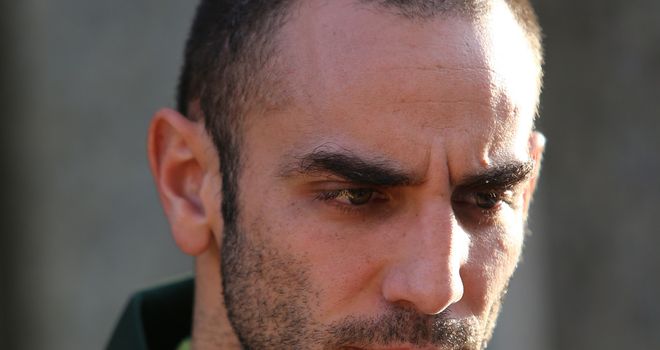 Caterham are embarking upon their fourth season and, on the face of it, they still have it all to do. Yet to score a point, they have ditched race-winning drivers like Jarno Trulli and Heikki Kovalainen and instead hired the inexperienced pairing of Charles Pic and Giedo van der Garde.
Changes are also afoot behind the scenes, with team owner Tony Fernandes and technical chief Mike Gascoyne taking a backseat and 35-year-old Cyril Abiteboul brought in as Team Principal from Renault. With F1 reconvening at Jerez, he spoke to Sky Sports Online about changes the team are making.
How would you describe Caterham's new car, the CT03, compared to last year's? How has the design changed?
Cyril Abiteboul: "In terms of the design of the car, it's a couple of things. To some extent, there is a substantial carry over from last year; we are not hiding that fact. There are a couple of reasons for that, because if you look at the part of the grid in which we're operating then obviously resources are quite limited. So you have to make sure that the allocation of resources is as efficient as possible. We've been looking at the package from an efficiency perspective. For example, we've decided to carry over the tub from last year; it's very expensive and time-consuming to manufacture. Also, we've just moved into our new base, where the manufacturing chain is not yet up to the level I would like it to be. It soon will be, but not yet, and therefore we have decided to carry over that particular part to free up some resources in order to focus on other areas which we know will make a bigger difference.
"Also, the bodywork - the sidepods and also the rear diffuser - the airflow around the car is going to be totally new. We intend that it's going to make a big difference. We will have aero parts coming at other races later in the season; there's an intent to develop the car. The car you see is a result of a very thought-out process that is looking to maximise efficiency and balancing appropriately what we had last year with what we were able to achieve over the winter - keeping in mind that we tried to push the car quite hard late last season. When you are a small team, you can't have multiple programmes going at the same time."
By the sounds of it, teams have their first upgrade package on the car in time for the final Barcelona test. Is that too soon for Caterham?
CA: "We will continue introducing parts for the second test and up until race one. There will be subsequent upgrades later on in the season. As I said, although it's a transition year and we keep an eye on 2014, there will be subsequent development. Something we will be monitoring is where the others stand because we know where we stand. We know the development that's going on back at the factory but we have to keep an eye on the competition. You want to know where you are relative to the others. This (Jerez) test is really 'debugging' - shaking down the car and seeing what problems you have. At the subsequent tests, I think we'll have a better idea of what the others have been doing.
"You also have to keep in mind that we are not in the same area of the development curve. It is much more expensive, both from a financial perspective and a time and materials perspective, for the others to gain in comparison to us because we are at a stage on the development curve where it should be less expensive for us to develop. So we have to keep an eye where we stand on that curve."
So it's a law of diminishing returns for the bigger teams?
CA: "Yes exactly. For them, the return is much lower than for us. Their cars' concepts are much more mature than our car and our concept. Therefore it should be easier for us to catch up."
You mentioned the competition. Who is the competition for Caterham this season?
CA: "It's a good question because it's not totally clear. We have to see what's happened over the winter and the effect of the new tyres Pirelli are introducing. I think tyres have demonstrated that they've played an important part in the way the season develops. Sometimes you've seen Williams suffering at the back; at the next race, they're almost winning races. If we see the same thing, it might be different competitors. Last year, Williams and Toro Rosso was at the rear of the midfield. Obviously Marussia was behind us. We expect to have more or less the same situation but, as I said, according to what people have done over the winter and according to the impact the new tyres will have on the new package, we may have a different profile of competition."
Is it pointless to talk about points at this stage? I think your owner (Tony Fernandes) has targeted points in the past but the team haven't scored points. Is that just something you don't say now?
CA: "We don't say it. We hope - we're keeping our fingers crossed. I think this season, when you have young drivers of limited experience you expect them to seize any form of opportunity. We are not in the points, let's face it, unless we do a great job over the season and reach that stage later in the season. But that's on merit; if there's a strange race with a lot of failures then that's something you can't rule out.
"We know to some extent we're gambling with young drivers but we also know that they have good experience, either inside F1 or outside, and we have expectations that they'll be able to seize any opportunities - including when strange things happen and points are accessible."
Obviously you don't have the resources that the bigger teams have. Where do you feel you have to improve to make the step towards the midfield?
CA: "I think we've made a good step when it comes to control, be it financial control or technical control of our package. I think the whole chain is coming together. We've just moved into our new base and that was a big piece in the jigsaw. Things are settling now and we are ramping up the production facility to a higher integration level, so we can build up to 50 per cent of the car in house. Doing the car yourself gives you the ability to control the cost, quality and lead time. It's pointless having the best design concept in the world if you don't control the quality. These are things where we've been a bit poor in the past and we're improving this year already. This car is already, in terms of quality, miles away from what we've had before.
"In terms of financial control, making sure we're spending money in a wise manner - making sure you have a proper return for your pound - is something I sincerely believe in. It will be years before we can compete in terms of resources but I like to think we'd be able to win some Championship for efficiency. It's something I'm investing a lot of my time in, because I come from industry and industry is all about economic efficiency and process.
"The teams that have merit on the track are able to attract sponsors, we know that. But it's a bit of a chicken and egg situation, so we also need to be attractive and think out of the box from a marketing perspective in order to increase the sponsorship acquisition."You say the team are striving in certain areas, looking to become more efficient, and yet you have two very inexperienced drivers. Whereas two or three years ago, when the team started, you had two race winners. How do you reconcile what seems a step back with the team's ambitions?
CA: "Well, I think, to some extent, why Tony and the Caterham shareholders asked me to join is because they were interested in doing things a little bit differently. Maybe what has been done in the past was not working so well, because everyone was expecting Caterham to reach the midfield quicker. This has not happened - we know that there is no shortcut in F1. (Drivers) are an element of the package, but just one amongst many others. Maybe they're the most important one but, given the formula we have, I don't think they're the first element in the package. Again, it all depends where you are. It's not our overreaching priority; I think it will be balanced with the rest. And maybe, to some extent, it was not balanced in the past.
"What we are looking at is making sure that the balance is making sense. We are not perfect as a team. We will not be perfect because they (Giedo van der Garde and Charles Pic) are quite inexperienced. It's more about being honest, having a good working spirit and be able to grow and develop our skills all together. I think in Caterham we are extremely fair and transparent, which are not always factors in all teams - I'm not pointing the finger at anyone in particular - but they are not treating their drivers in the same manner.
"You refer to their limited experience. It's true for Giedo because in F1 it's the first time he has been promoted as a race driver. But he has an awful lot of experience outside of F1 and sometimes other series are just as good, almost, as F1. When it comes to certain skills, being a World Champion in go-karts is quite an achievement, as is being a champion of the World Series by Renault. I worked at Renault before and so I know how competitive that Championship is. For me, those are two things that really speak for the talent of Giedo. I don't know if it was luck, or a lack of luck, but he's had people like Lewis Hamilton, Sebastian Vettel and Nico Rosberg as team-mates. But Giedo has lots of experience of other cars, teams and different types of team-mates - so he has some experience.
"Charles has one year of experience in F1 with Marussia. There is nothing particularly bad with Marussia but I think it's fair to say that Marussia as a team was building its project around one particular driver, namely Timo Glock. I think it's fair to say that, the way the team was working, Charles was driver number two. We don't have driver number one and driver number two; we are treating our drivers equally.
"They have to learn and that is what we are looking to doing. A last comment about the drivers: with all that is happening in relation to 2014, we preferred also to stabilise between 2013 and 2014."
Marussia were very upfront in their announcement of Glock's departure, saying the decision was based on money. Is that the reason why you have your new driver line-up?
CA: "I think it's fair to say we have drivers that have commercial value. I don't know if 'ambassador' is the right marketing word but they are supported by companies; I don't see that as a negative. I think there is a good balance between their sporting and commercial value. Giedo's at McGregor, a company that has been supporting him since 2007 I believe. So if they have been supporting him for five or six years, then that says something. McGregor has also sponsored Williams and been involved with other teams in F1. They know the business and understand how F1 is working. The fact they're supporting one driver in particular is another endorsement of Giedo.
"It's the same with Charles, who is supported by Renault. Those things matter because when you are a young team, as I said, it's not easy to attract sponsors. And individual value versus team value has to be used in a smart manner. That's something we're not shy of saying we must use. But I don't think we have overrated that aspect in comparison to other aspects of the driver."
So Heikki hasn't left the team for the same reason Timo Glock has left Marussia?
CA: "Heikki is not one of our two race drivers; we continue to have discussions with Heikki to see if a different project could be possible. Let's be honest: we'd be keen to keep experience in our line-up. That's something we'd both be interested in under the right conditions. I would not undermine the importance of experience in general in F1. That's also true for mechanics, for engineers, for Team Principals...but I have limited experience!
"This is why it's important to have people upon which you can rely. We have an awful lot of experience when it comes to engineering back at the factory, so in the Caterham family of drivers we'd love to have some experience. Leaving that aside, I think Heikki did a particular career. I think it was interesting for us to think about the future, about people with lots of energy and appetite for something. Sometimes you also have to see the reality in truth, when you are at the end, or reaching the end.
So you think Heikki is reaching the end of his career?
CA: "I don't think Heikki or Vitaly (Petrov) are reaching the end of their careers - it's not for me to say - but I think the particular project between Heikki and Caterham had to change its format. We're looking right now to see whether another format is possible. The format we had in the last year was not working anymore."
What do you mean when you say, 'The format was not working'?
CA: "I think it's on both sides to be honest. You made reference to one comment that maybe someone else made: the expectation to score points and maybe deliver a good car. Let's be honest: I think we disappointed our drivers and let them down, in the sense that we under-delivered in comparison to the promises we made to them. And I think you can do that once, twice...with Heikki, I don't think we did that for three years but this relationship has been going on for three years and this sort of thing damages relationships.
"I think at a certain point at the end of last season, maybe there was not the sort of trust and confidence and respect - on both sides - that you should be counting on for the development of the team and driver. I think this is making reference to Giedo and Charles: obviously we are starting from scratch, a new relationship. It's like with your girlfriend or wife! Sometimes when you disappoint too much, you know the relationship is just...broken.
"This is the sort of point we'd reached with Heikki. We need to see if we can evolve on something different but we are starting a new relationship from scratch with two new individuals."
So Heikki wasn't happy with the progress the team were making?
CA: "No, of course he wasn't happy with the progress. No-one was happy - the shareholders are not happy with the progress. So it's about making sure we do better than that. But we are changing a lot of things back at the factory in our process, our culture...it was important to start from a different base."